MY XPORT Module
Developed by
Community developer
PrestaShop
1.5.0.0 - 1.6.1.15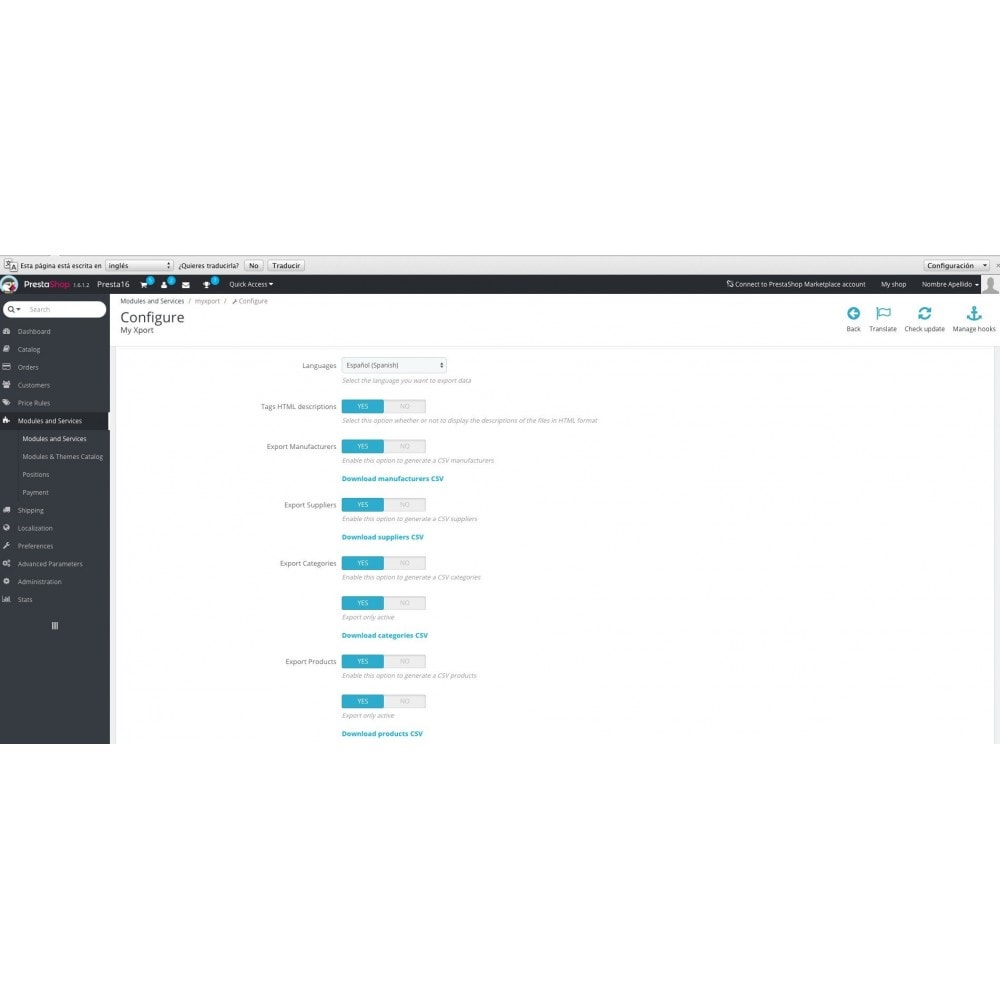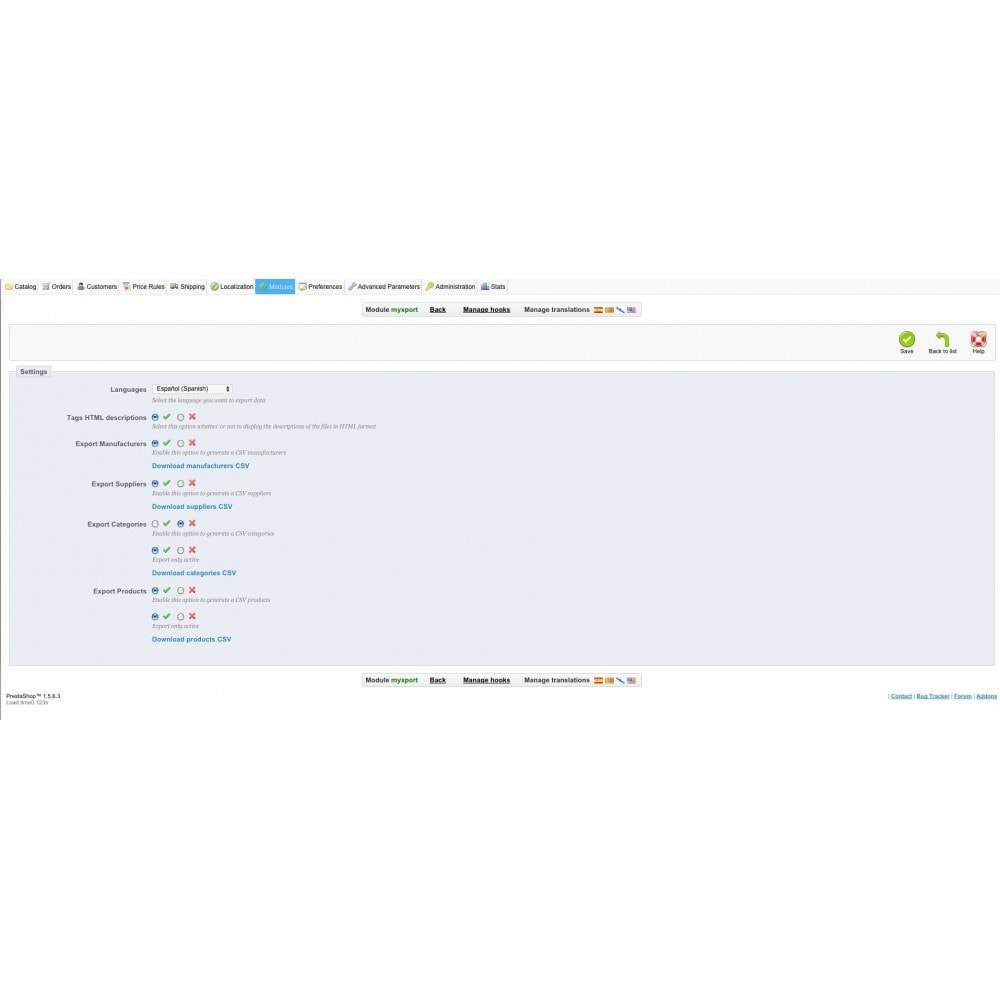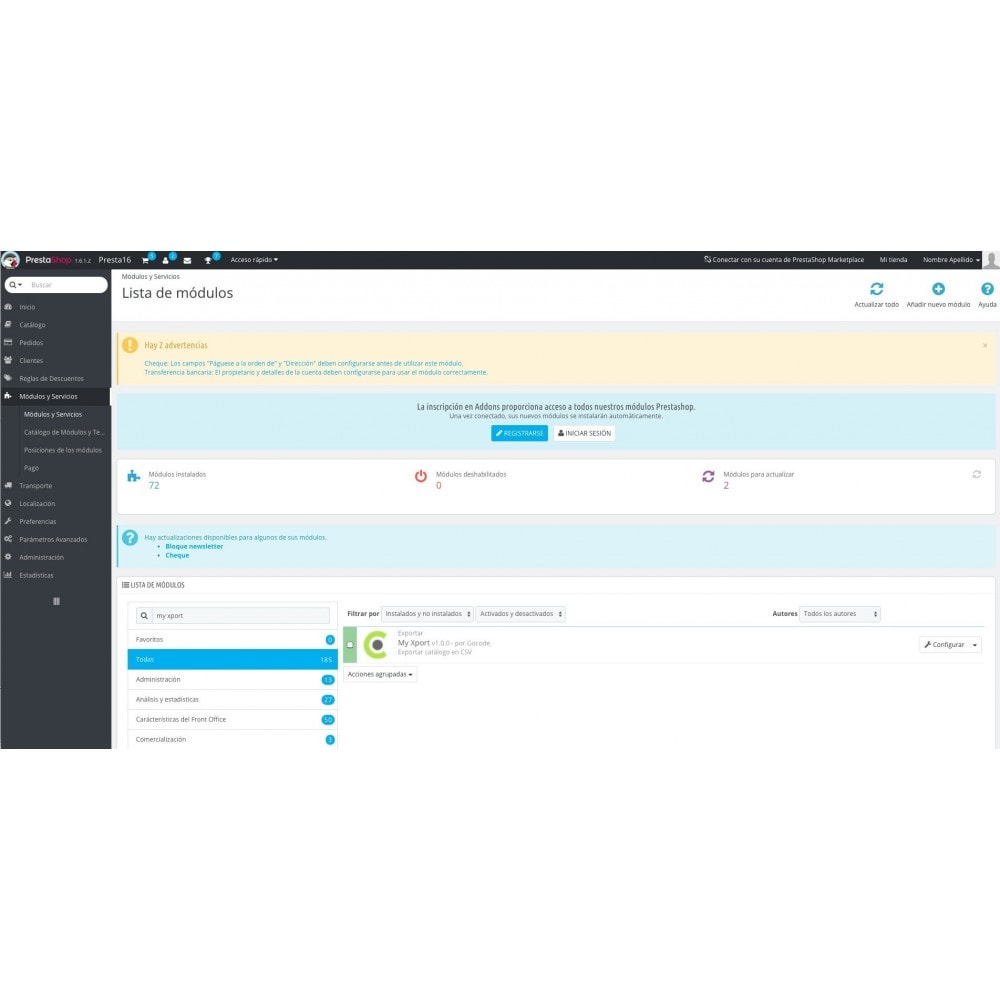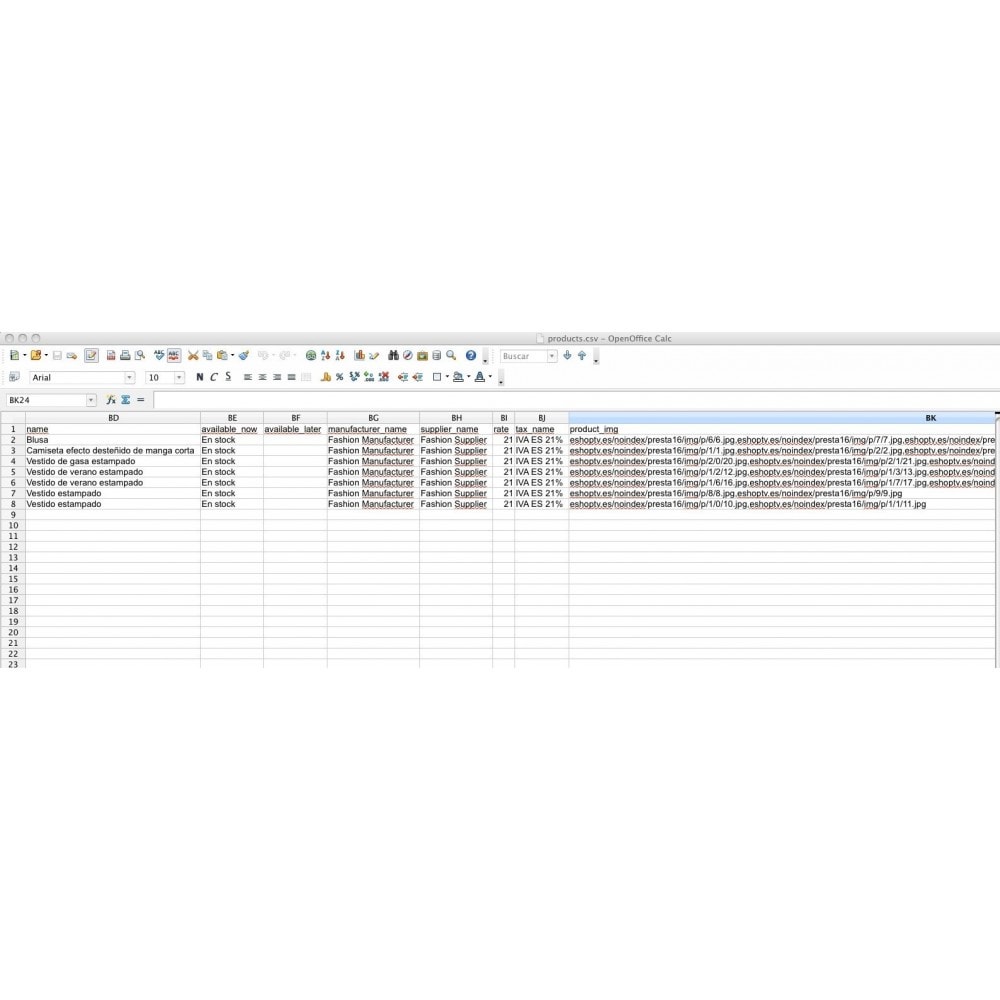 Overview
With this module you can very easily export your catalog in CSV format and sent to a distributor, wholesaler Export products, categories , manufacturers and suppliers.
What this product does for you
Productivity Improve catalog management
Export catalog in CSV format in a simple way .
Features
CSV fields to export the product:
id_product
id_supplie
id_manufacturer    id_category_default
id_shop_default    id_tax_rules_group
on_sale    online_only
ean13
upc
ecotax
quantity
minimal_quantity
price
wholesale_price    unity
unit_price_ratio
additional_shipping_cost
reference
supplier_reference
location
width
height
depth
weight
out_of_stock
quantity_discount
customizable
uploadable_files
text_fields
active
redirect_type
id_product_redirected
available_for_order
available_date
condition
show_price
indexed    visibility
cache_is_pack
cache_has_attachments
is_virtual
cache_default_attribute    date_add
date_upd
advanced_stock_management
pack_stock_type    id_shop    id_lang    description
description_short
link_rewrite
meta_description
meta_keywords
meta_title
name
available_now
available_later
manufacturer_name
supplier_name
rate
tax_name
product_img
product_categories
product_features
product_attributes
product_accessories 
         
CSV fields to export the categories:
id_category
id_parent
id_shop_default    level_depth
nleft
nright
active
date_add
date_upd
position
is_root_category
id_shop
id_lang    name
description
link_rewrite
meta_title
meta_keywords
meta_description
category_img          

CSV fields to export the manufacturers:
id_manufacturer
name
date_add
date_upd
active
description
short_description
link_rewrite
manufacturer_img       

CSV fields to export the suppliers:
id_supplier
name
date_add
date_upd
active
description
link_rewrite
supplier_img    
                                                                                                         

                             
Support and updates
You automatically get 3 months of support for this product.
For 90 days after your purchase, you can enjoy technical and feature support, as well as access to updates available for this product.
Recommendation
 To generate the CSV files have to press the save button within the module and download different files CSV
What your customers will like
Provide the user a way to export your catalog to a dealer to another store , etc .. With a few clicks multiple files are generated in CSV to process information . After processing the information can be used by CSV mportacion Prestashop .
Installation
 Easy Installation: After downloading the module Prestashop module section add a new module and install.
Frequently purchased together
Community developer Developed by

PrestaShop v1.5.0.0 - v1.6.1.15 Compatibility

PrestaShop Developed by

PrestaShop v1.6.0.4 - v1.7.2.2 Compatibility

PrestaShop Developed by

PrestaShop v1.6.0.4 - v1.7.2.2 Compatibility
What's New in Version 1.0.0(01/28/2016)
Fix Security Bug (int) MYSQL and class submit button
About the developer
05/06/2011

PrestaShop member

Spain

Country
Question?
Need help?
This developer answers your questions in: