Forms Module
Developed by
BM Services
(20 votes)
More than 90 % of users recommend this product
The average rating includes all reviews over the last six months.
Partner
Agency
+500
downloads!
PrestaShop
1.5.0.0 - 1.6.0.14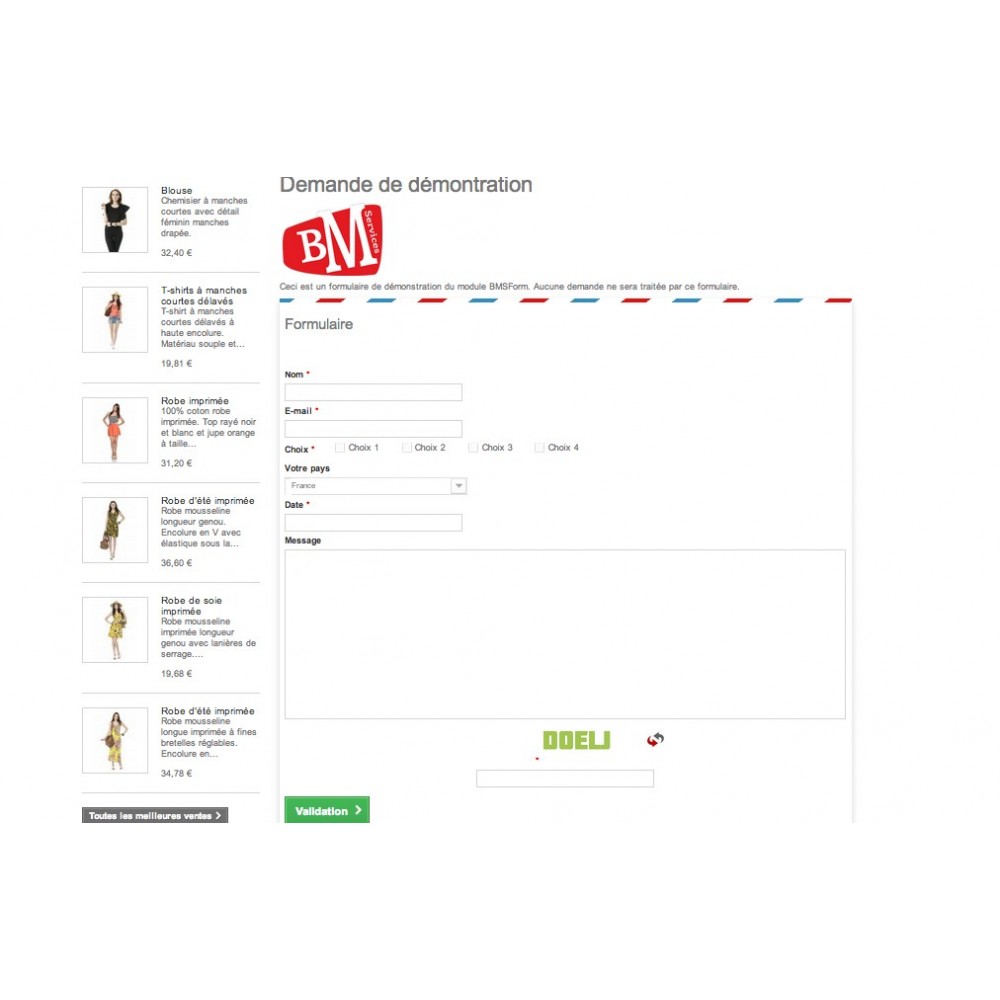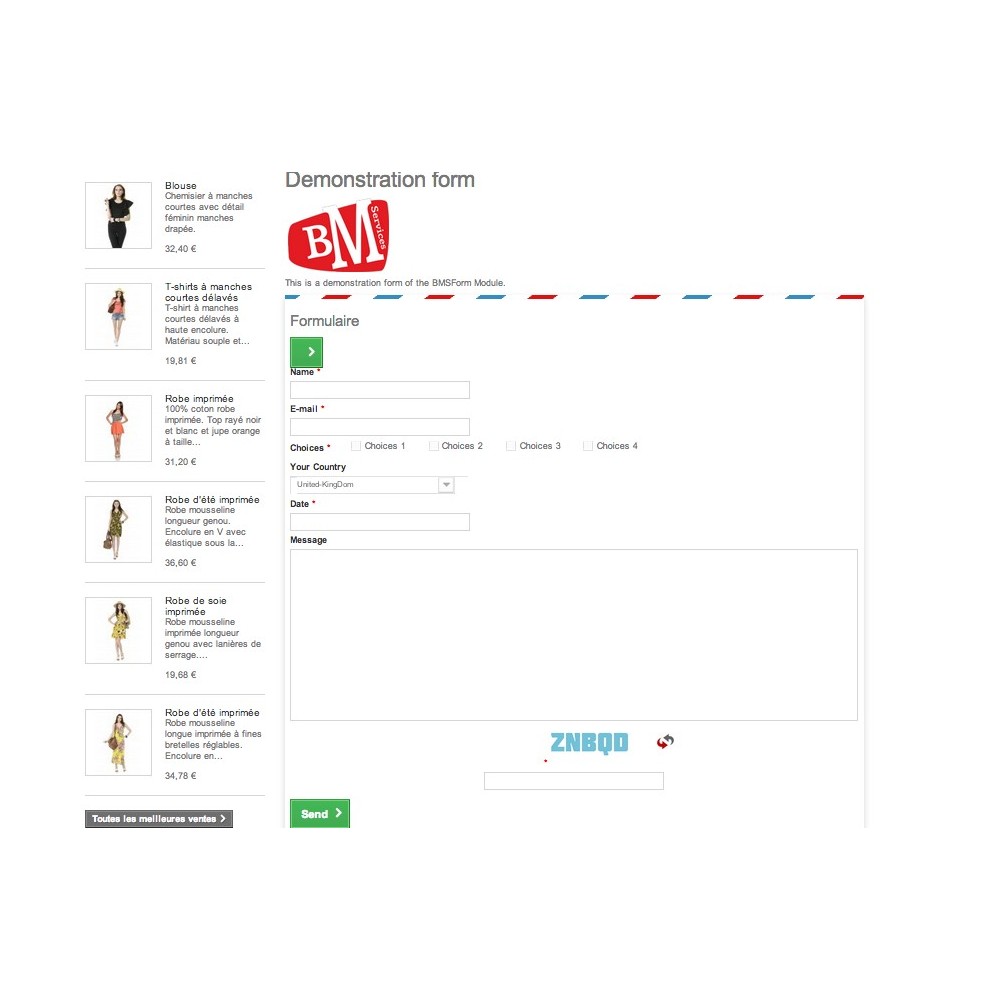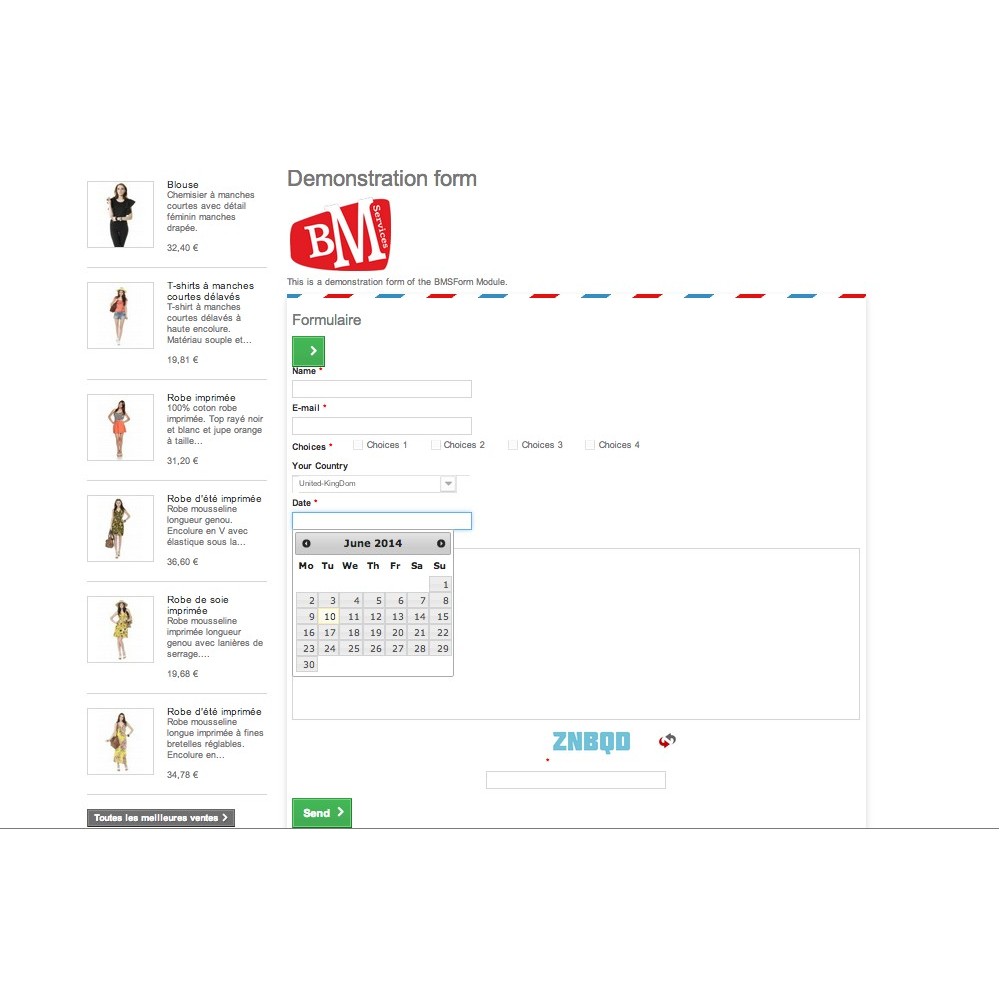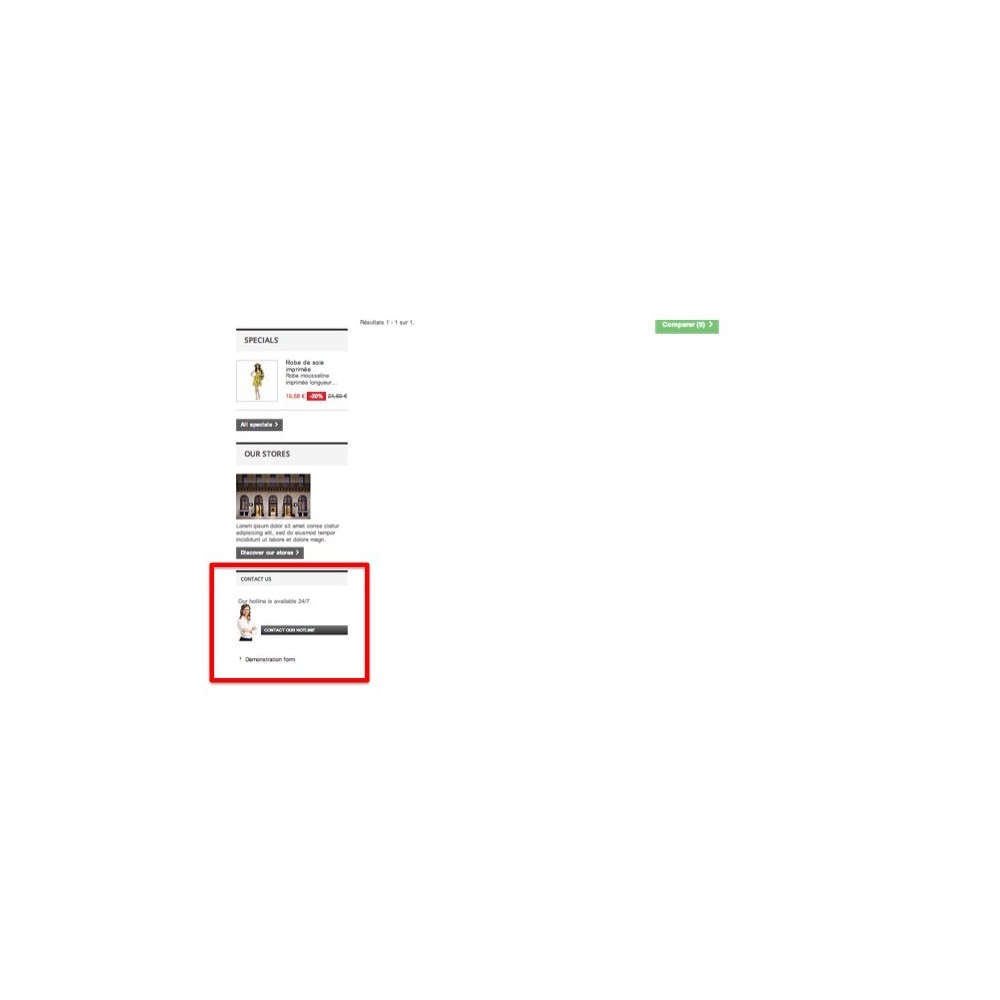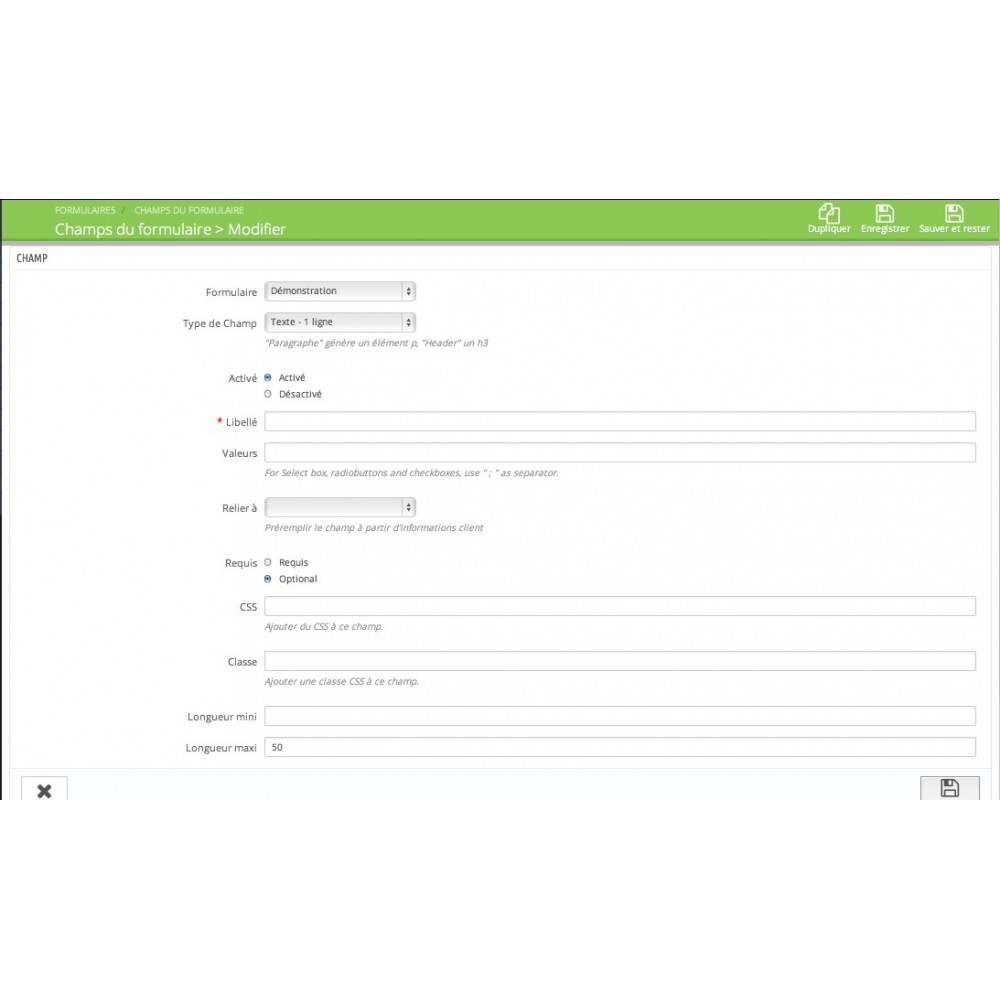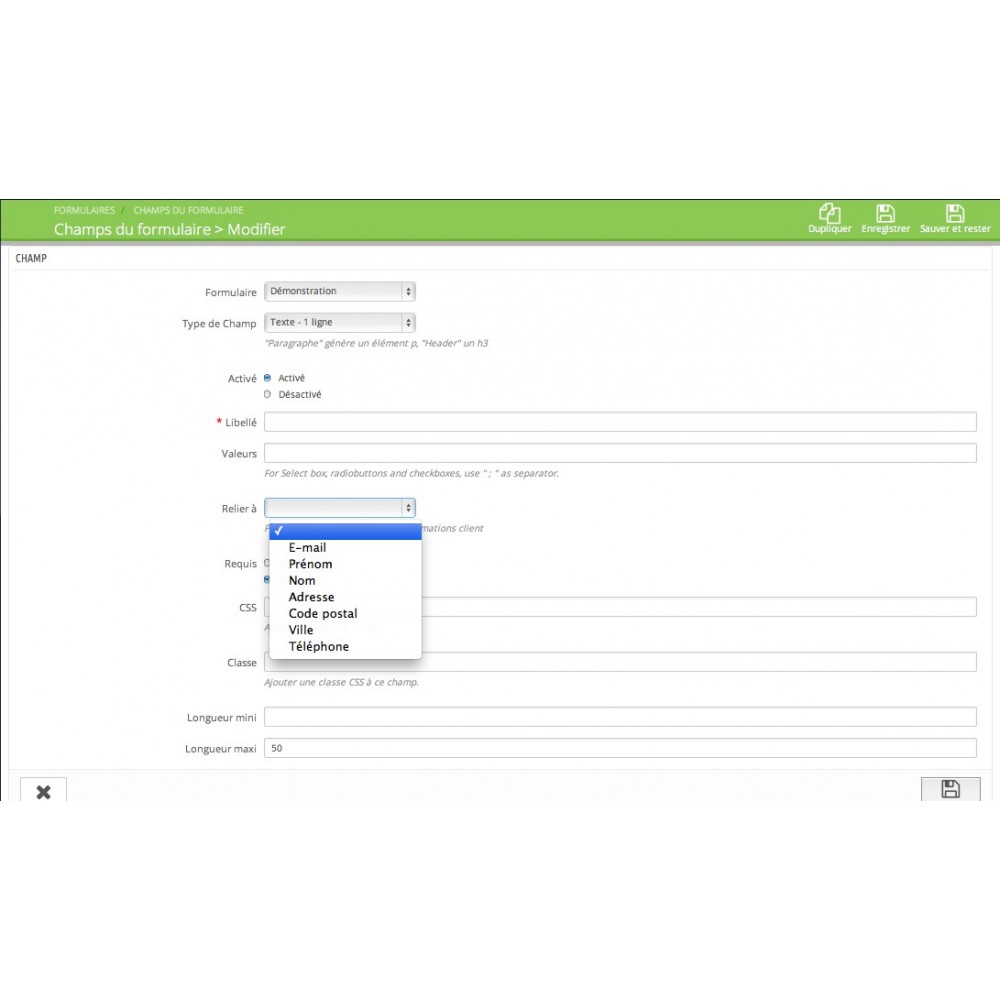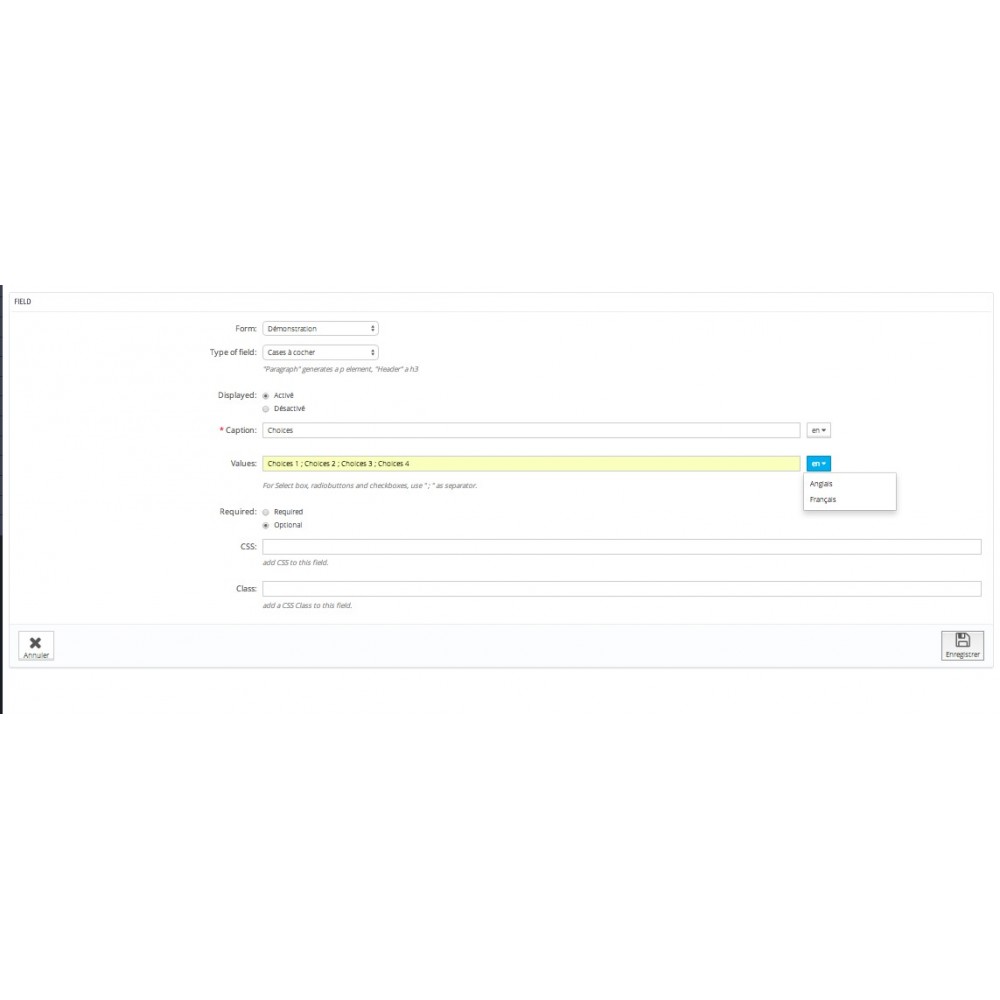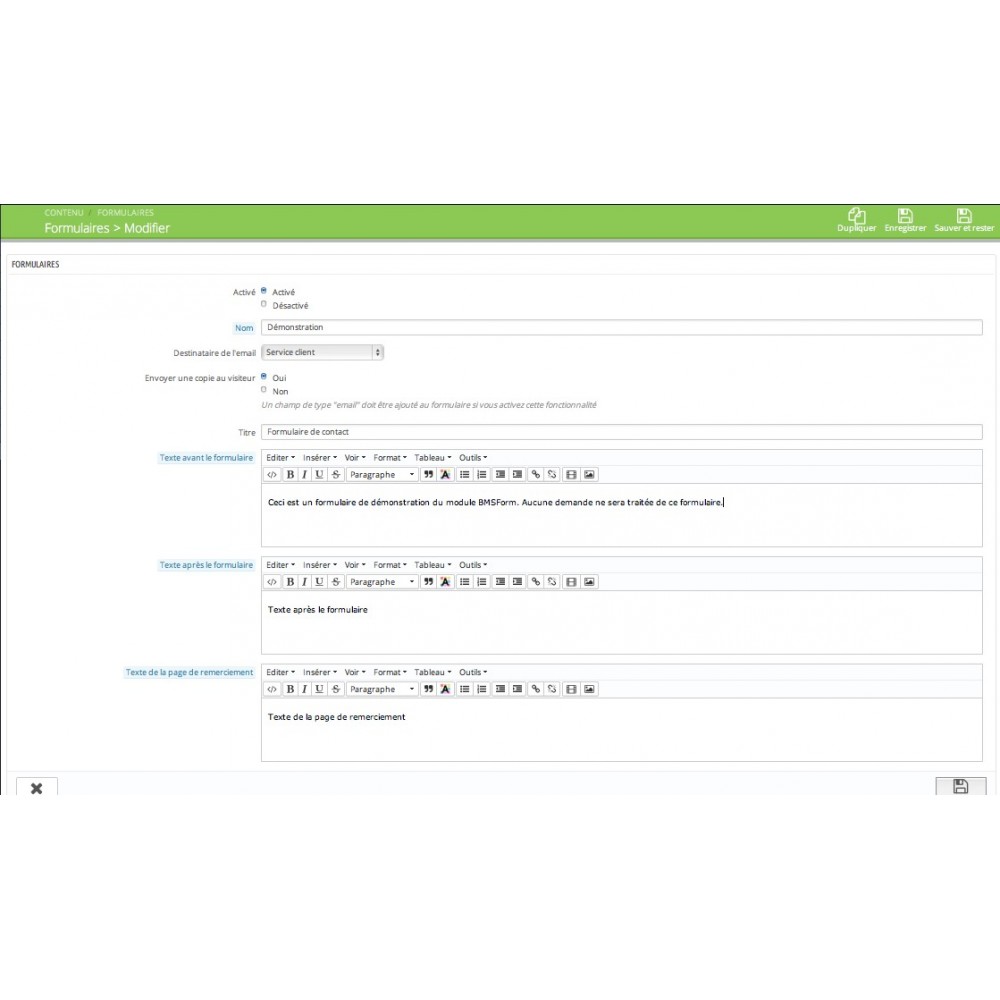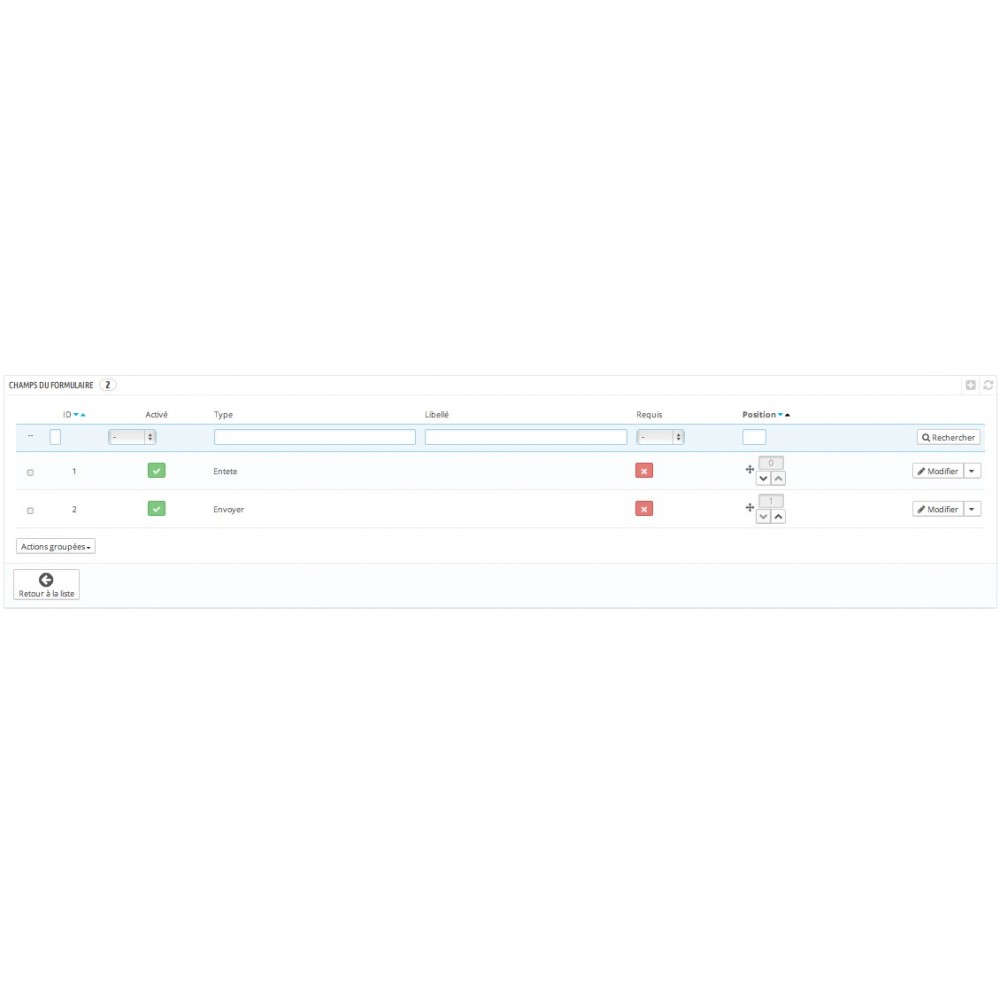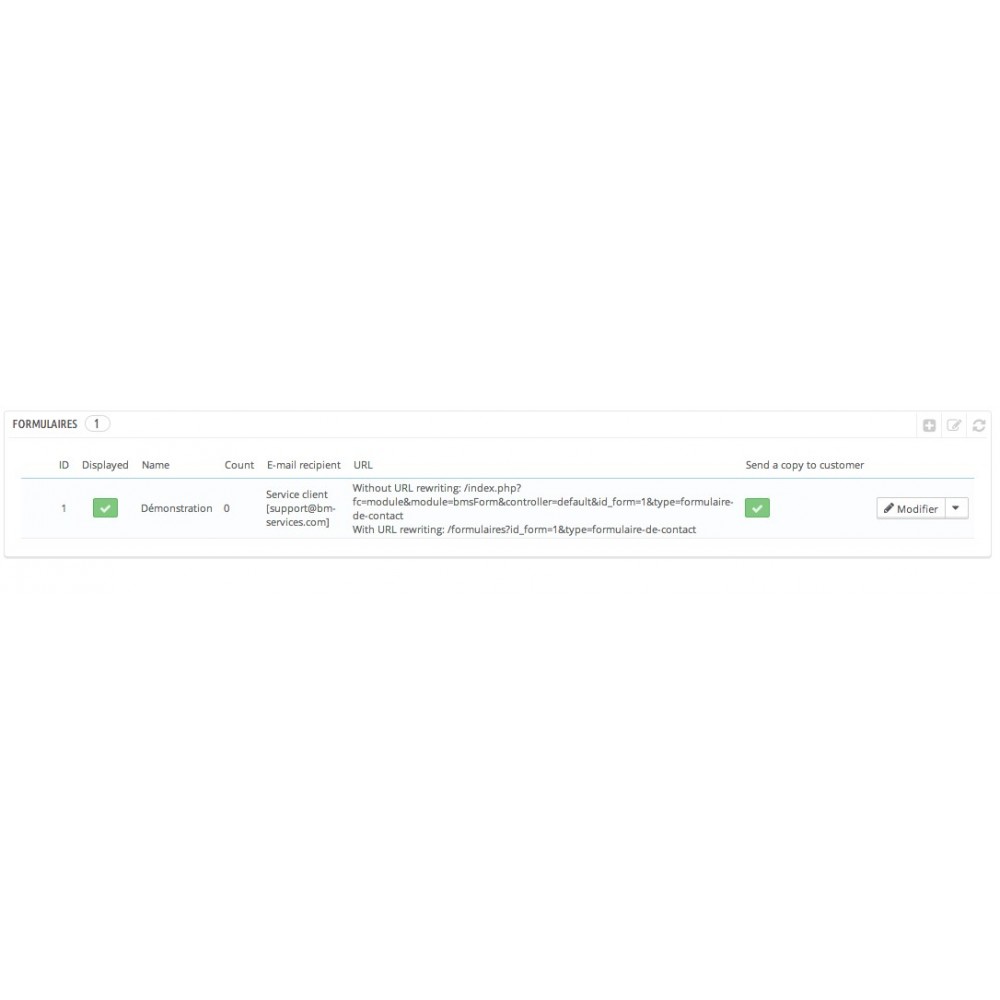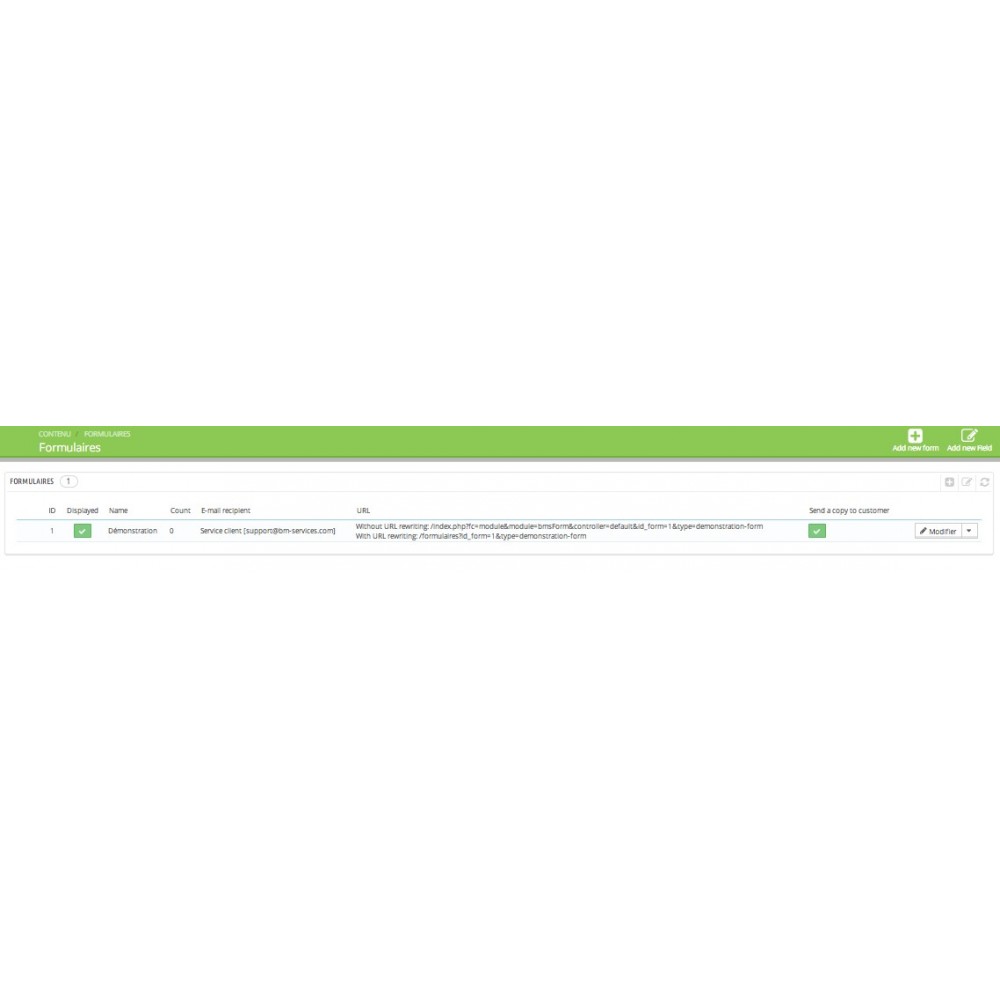 Overview
This module allows you to easily create and integrate fully customizable forms (creation of contact form, quotation, demonstration, retraction (law hamon)...), and includes multi-language and multi-store support.

What this product does for you
With this module, your customers can contact you, whatever your need is: quotation, press, partnership, recruitment, retraction… Your forms will be localized in your customer language and, if you have a multi-store PrestaShop, will be managed store by store.
Your Back Office will be enhanced by a user friendly interface fully integrated to PrestaShop look & feel. No need to go into the Modules menu: this interface has direct access from the main menu. The form creation is simplified, and requires not technical knowledge.
The forms can be automatically displayed in a column of your website, integrated as a link in a CMS page or manually into your template. This module requires no specific change to your template: the form rendering is derived from the standard contact module and the mail template is the one of the standard contact module.
Features
Full support of the new PrestaShop 1.6 functionalities
Multi-languages support
Multi-store management
Fully integrated management of the forms from the Back Office, with direct access from main menu and access restrictions through PrestaShop permissions
Fully customizable forms creation, without any technical knowledge requirement
Many type of fields like text field, drop-down list, check boxes, date with calendar, captcha and more
Validation rules like field requirement, minimal and maximal value length, e-mail address, captcha and more
Automatic pre-fill of fields from the customer account information like first name, e-mail address, phone number and more
Easily add CMS content that can be displayed before or/and after the form
Easily add a confirmation page after form submission
Easily choose the recipient of your forms in the contact list of your store
Ability to send a confirmation e-mail to the visitor on form submission
User friendly management in Back Office like drag'n'drop for field position, one-click field and form activation/deactivation, form duplication and more
Integration
Quick access: block to display the list of forms in left or right column, with look & feel from the standard "blockcontact" module
No further personalization needed: use of the standard contact mail template (for both merchant and visitor)
Better SEO: page title and breadcrumb based on the form title + personalized URL for advanced tracking capabilities
Every field can be associated to CSS styles or classes directly in Back Office
Use of standard and well known libraries like jQuery, jQuery DForm and jQuery Validate
Frequently purchased together
BM Services Developed by

PrestaShop v1.5.0.0 - v1.6.0.14 Compatibility

PrestaShop Developed by

PrestaShop v1.6.0.4 - v1.7.2.4 Compatibility

PrestaShop Developed by

PrestaShop v1.6.0.4 - v1.7.2.4 Compatibility
Other

PrestaShop 1.6 and more compatible
Hook for Front Office display of the forms list in left or right column
Module made by BM Services, certified PrestaShop agency
What your customers will like
A visitor can easily find and fill your forms, with automatic validation of the fields like required fields or invalid email address. For a better user experience, some of the fields like first name or email address could be pre-filled when the visitor has a client account.
As an option, a confirmation mail with all the provided information could be automatically sent.
Support and updates
You automatically get 3 months of support for this product.
For 90 days after your purchase, you can enjoy technical and feature support, as well as access to updates available for this product.
Installation
The module installation creates a new "Content" menu with a "Form" submenu. To centralize your content management, you can move the "CMS" submenu in the "Content" menu.
To allow personalized address for your form, a URL rewrite is also created and can be seen in submenu "SEO & URLs" of the "Preferences" menu.
What's New in Version 2.1.5.5(06/26/2015)
Fixed a problem with new version PrestaShop
About the developer, BM Services
BM-Services is a Prestashop Gold partner agency for the last 6 years.  BM-Services creates Prestashop-based E-shops, intervenes for Prestashop Search Engine Optimizations (SEO), maintains websites, makes specific developments and develops addons for software editors (Paybox, Videodesk …)  or to add new functions to Prestashop. BM-Services team counts 20 fully-trained professionals and has already developed hundreds of Prestashop sites and addons.
08/02/2012

PrestaShop member

France

Country
Question?
Need help?
This developer answers your questions in: