Brazilian Correios Tracking Modul
Entwickelt von
BM Services
(7 Stimmen)
Mehr als 90 % der Benutzer empfehlen dieses Produkt weiter
Die Durchschnittsbewertung umfasst alle Bewertungen der letzten sechs Monate.
Erfahrungsniveau
Die Benutzer denken, dass dieses Produkt einen Kenntnisstand voraus setzt:
Für Benutzer mit Grundkenntnissen
1
Für fortgeschrittene Benutzer
1
Partner
Agentur
empfohlenes Modul
für Ihr Land
PrestaShop
1.6.0.4 - 1.6.1.17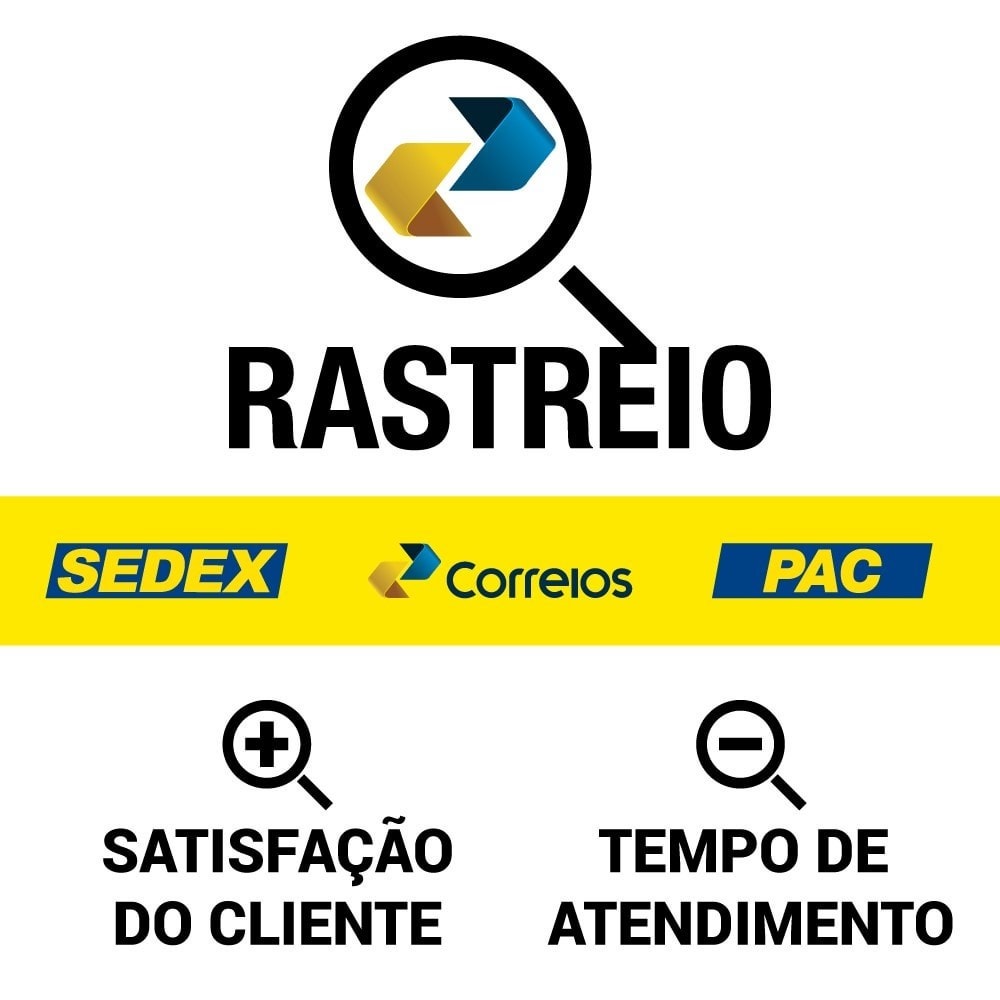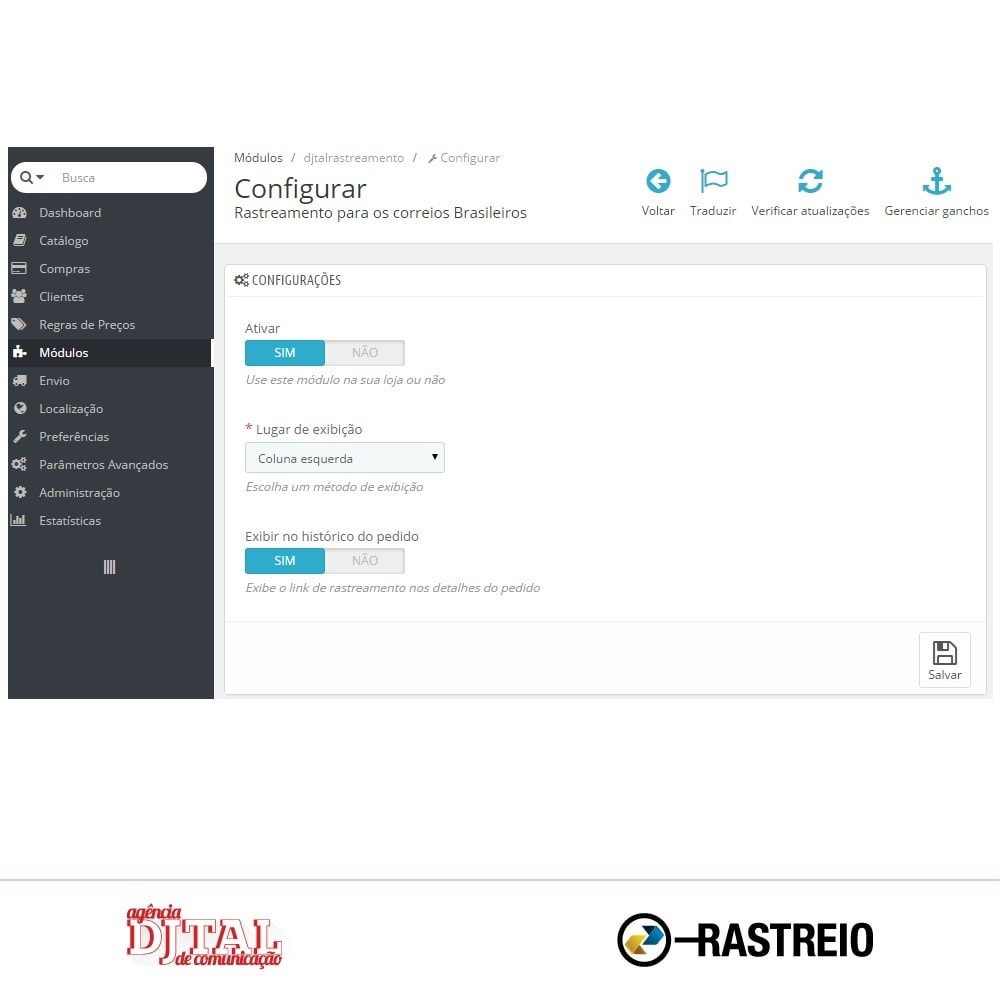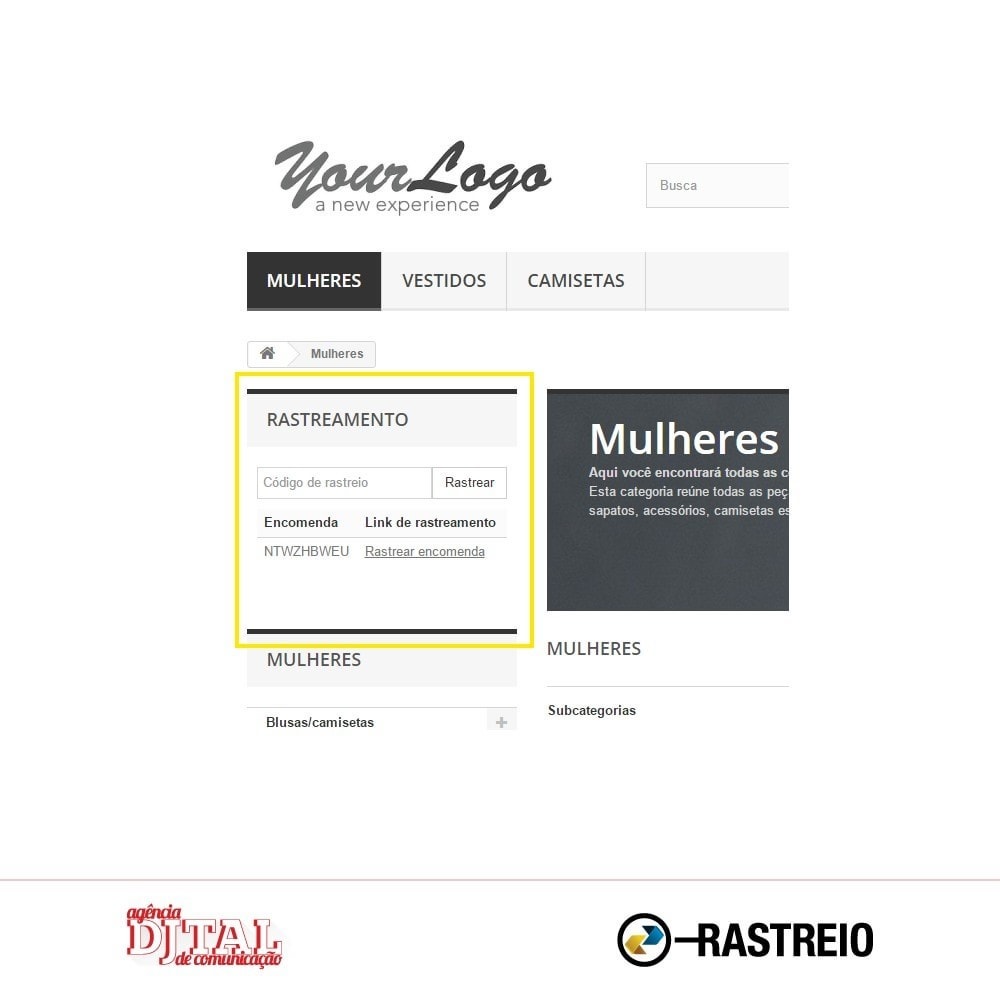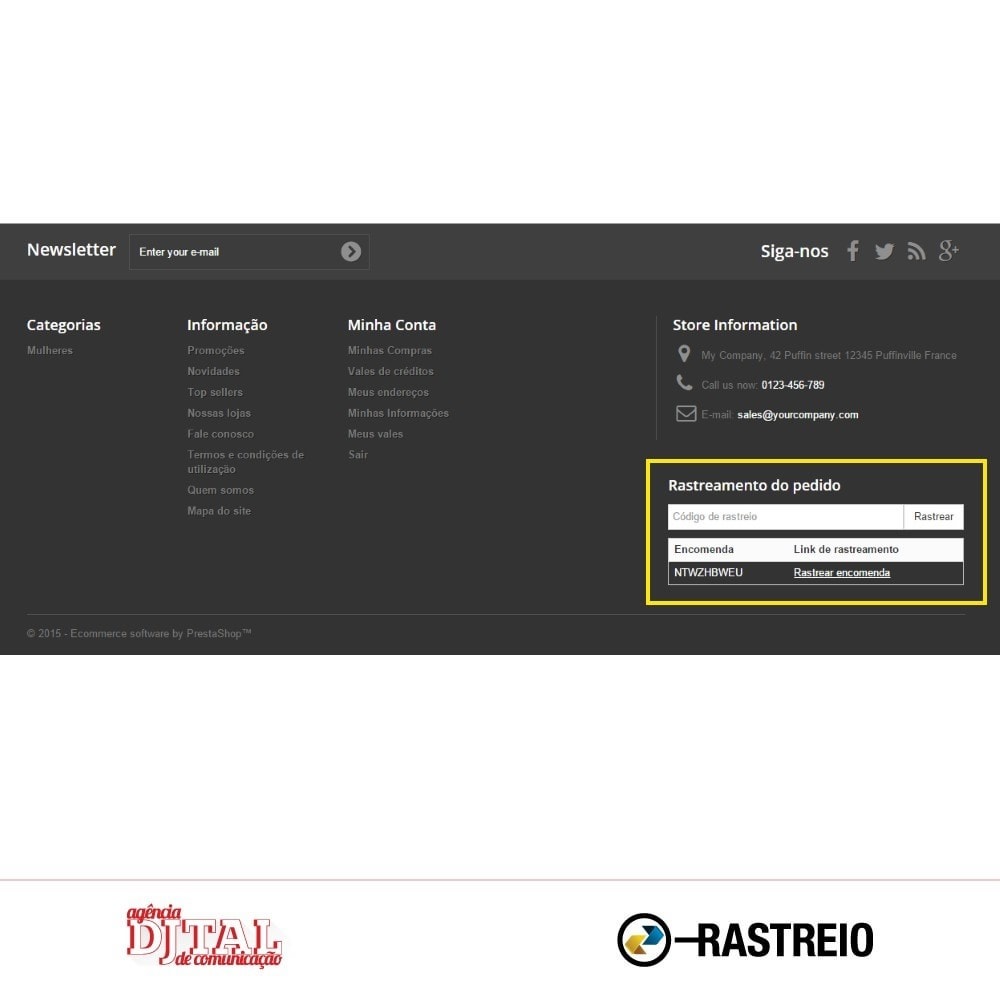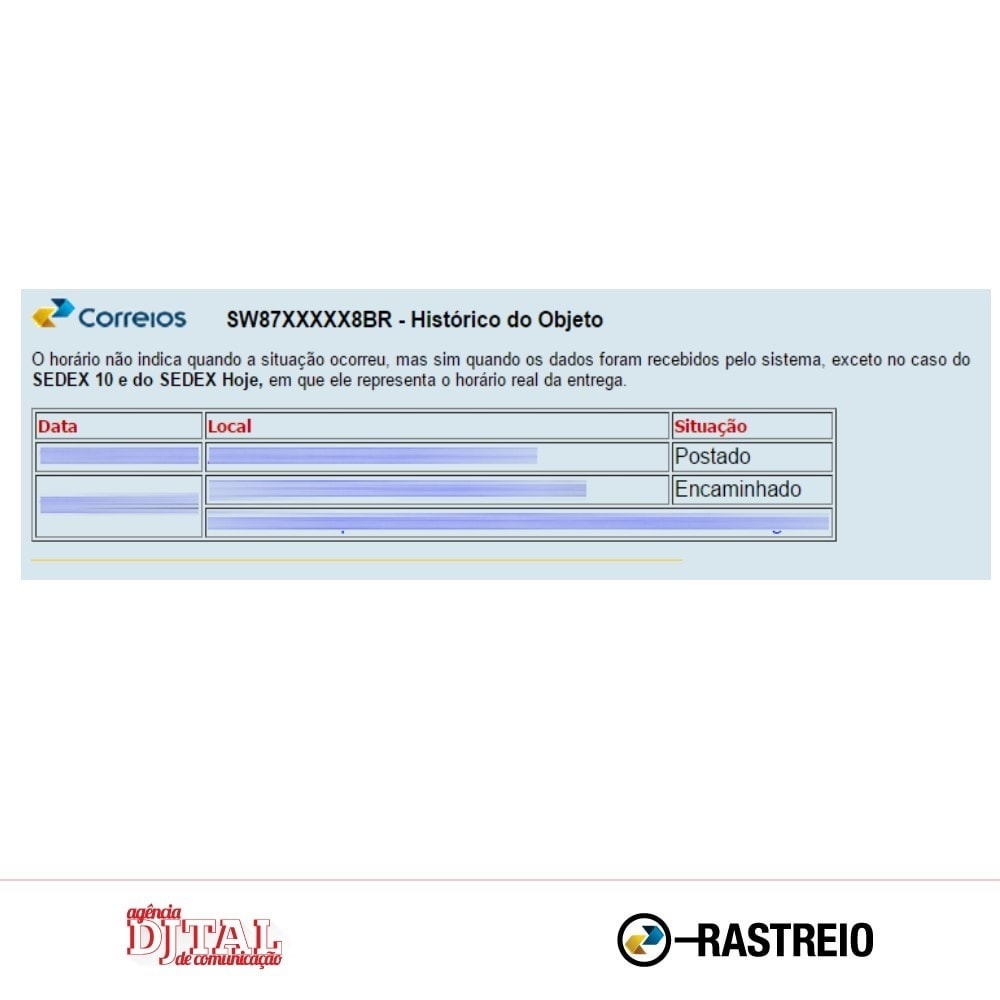 Kurzbeschreibung
With the "Brazilian Correios Tracking" module you and your client will have total agility and comfort to track the orders of your Prestashop online store in Brazil. Save time for your customer service

Vorteile und Modulbeschreibung
Produktivität Erleichtert die Verwaltung Ihres Kundendienstes
This product tracking module is so easy for your customer that he will not need you ever again to track his order.

Quick list of open orders
The module adds a window for tracking in all of the pages of the website and its location on each page is controlled by you the storeowner.
Logged-in clients on your online store will see the Quick Tracking List. In it, they will have an automatic list with all of their open orders and their respective object codes.

One click product tracking
The listed object codes are direct links to the Correios table with the full tracking information for that order. No copy paste, only one click.
This way to get to the tracking table is also available for the storeowner in Prestashop's dashboard, in the normal session to manage orders.

Less customer service, more satisfied customers
Your customer service people can do way more than answer emails about where the client order is at the moment, each moment, every day until it arrives.
With the "Brazilian Correios Tracking" module as soon as the client enters the site to make the question, he will see the Quick Tracking List with all of the open orders listed and the object codes ready to be clicked.

Practicality
As soon as the logged in client enters the site in any page, he/she will see the window listing all his open orders with the object codes as links to the tracking.

Agility
Client and storeowner access the Correios tracking table with only one click.

Simplicity
The integration with the dashboard of Prestashop is simple. The only chande is that the object codes in your normal list of open orders are now links.

Tranquility
More clients doing their own product tracking with ease means more satisfied shoppers and less workload for your customer service people. Now you can focus on what's really important.

Funktionsbeschreibung
The "Brazilian Correios Tracking" module is a simple module that will change the way you and your clients deal with product tracking.
Quick Tracking List of all the open orders for logged in clients.
Window of product tracking via object code for clients that are not logged in.
Object codes as links to the Correios product tracking table, as well in the Quick Tracking List as in the Prestashop dashboard for the storeowner.
Less workload for the customer service people.
Werden häufig zusammen gekauft
BM Services Entwickelt von

PrestaShop v1.6.0.4 - v1.6.1.17 Kompatibilität

Community developer Entwickelt von

PrestaShop v1.5.0.0 - v1.7.2.4 Kompatibilität

Community developer Entwickelt von

PrestaShop v1.5.5.0 - v1.7.2.4 Kompatibilität
Was Ihre Kunden schätzen werden
People still get anxious with their online purchases; they worry. Knowing where and what is happening with the order is a constant desire of the shopper. With the "Brazilian Correios Tracking" module your client will find everything he/she needs to get the full product tracking of
Correios
, with only one click, in any page of the website (at a location defined by the shopowner).
Quick Tracking List in all pages of the online store.
Product tracking with only one click.
Support und Updates
Sie profitieren automatisch von 3 Monaten Support für dieses Produkt.
Für 90 Tage nach dem Kauf können Sie sich über technischen und funktionalen Support sowie über Zugang zu verfügbaren Aktualisierungen für dieses Produkt freuen.
Option Installation
Default installation of a Prestashop module.
Enter your Prestashop dashboard and go to your modules list.
Click in "Add a module" and select the "zip file" path.
Now the module appears in the list and is ready to be installed.
Neue Funktionen von Version 1.0.1(15.12.2015)
shipping code controle more accurate
Über den Entwickler, BM Services
"BM-Services is a Prestashop Gold partner agency for the last 6 years.  BM-Services creates Prestashop-based E-shops, intervenes for Prestashop Search Engine Optimizations (SEO), maintains websites, makes specific developments and develops addons for software editors (Paybox, Videodesk …)  or to add new functions to Prestashop. BM-Services team counts 20 fully-trained professionals and has already developed hundreds of Prestashop sites and addons."
02.08.2012

PrestaShop-Verkäufer

France

Land Region
Eine Frage?
Sie brauchen Hilfe?
Der Entwickler antwortet Ihnen auf