Import eBay, the essential addon for the eBay module Modul
Entwickelt von
202 ecommerce
(8 Stimmen)
Mehr als 90 % der Benutzer empfehlen dieses Produkt weiter
Die Durchschnittsbewertung umfasst alle Bewertungen der letzten sechs Monate.
Erfahrungsniveau
Die Benutzer denken, dass dieses Produkt einen Kenntnisstand voraus setzt:
Für Benutzer mit Grundkenntnissen
1
Für fortgeschrittene Benutzer
1
Partner
Modulentwickung
PrestaShop
1.5.0.0 - 1.6.1.17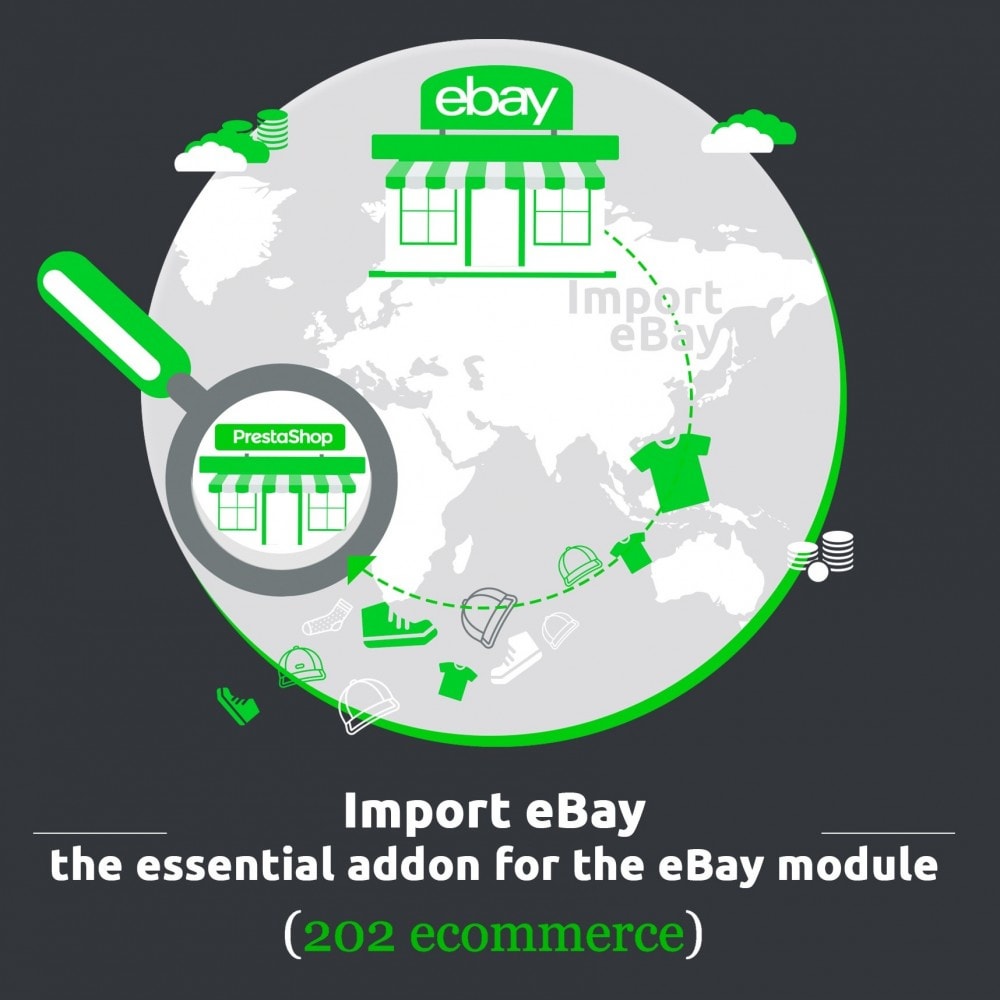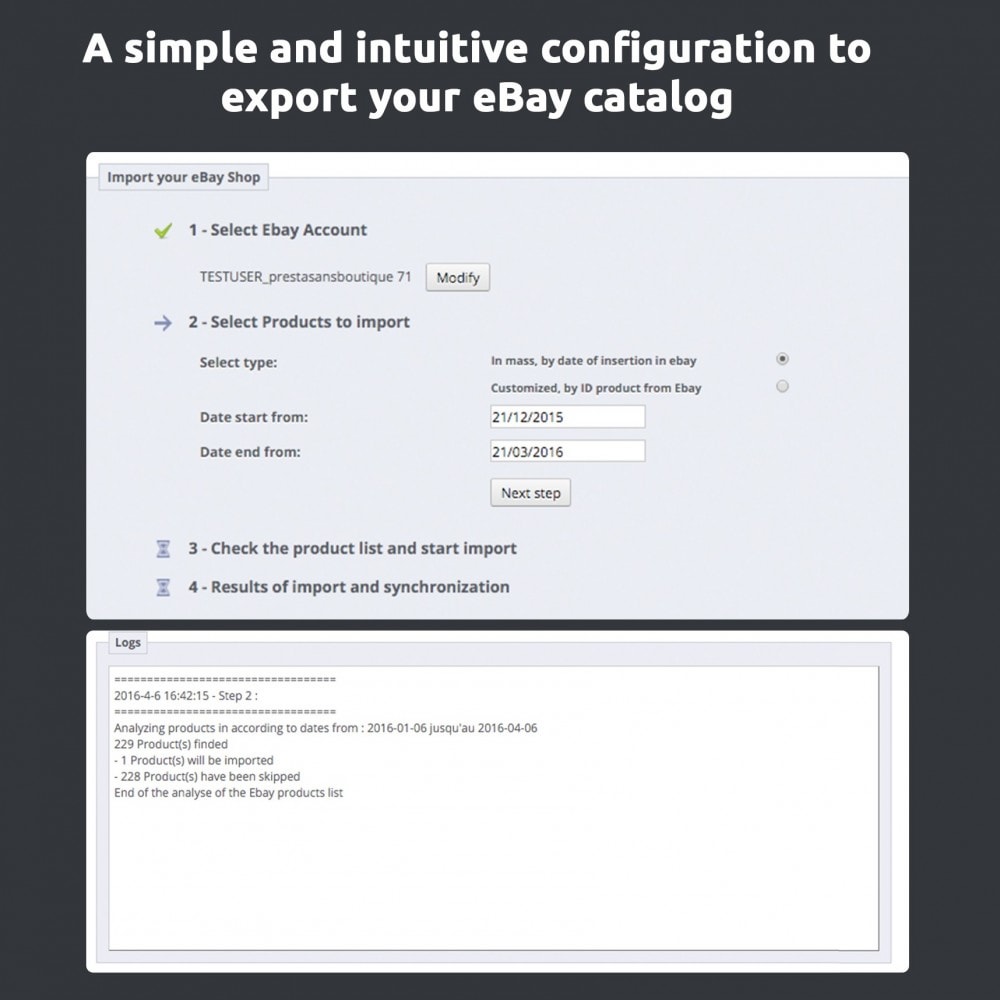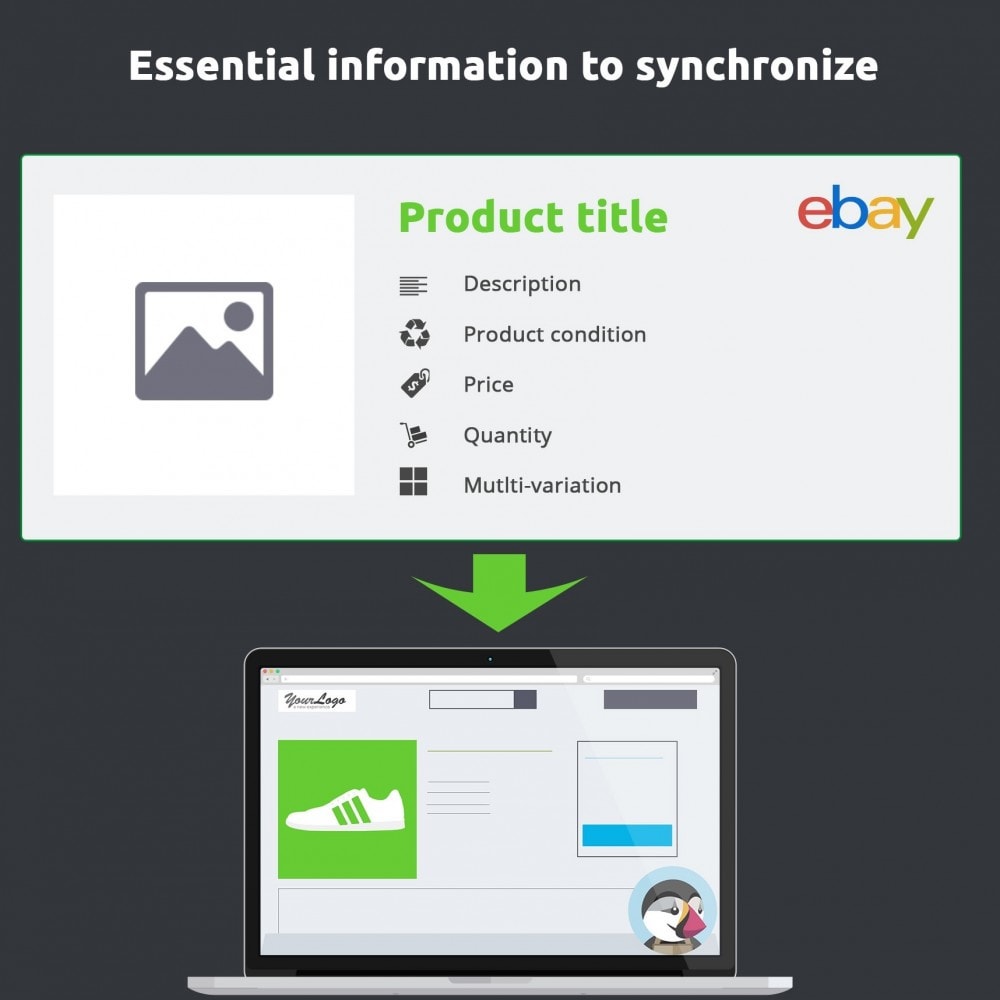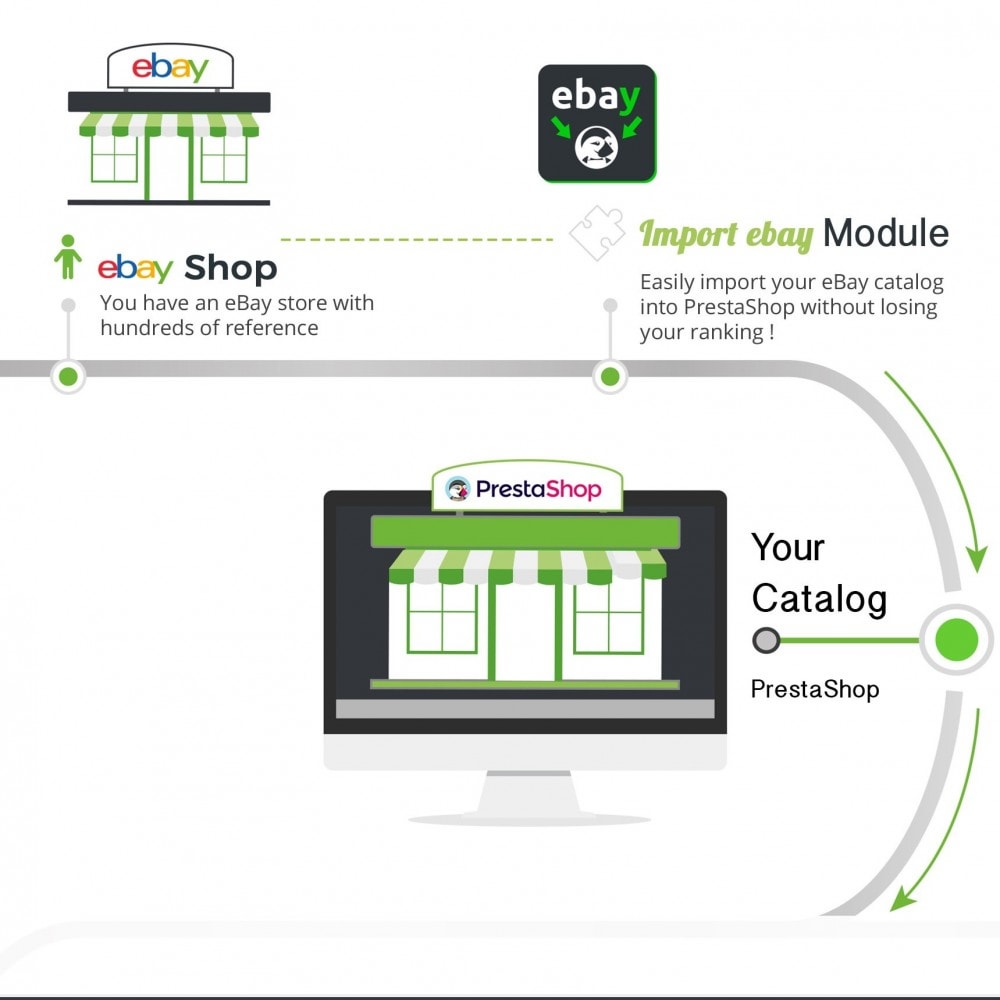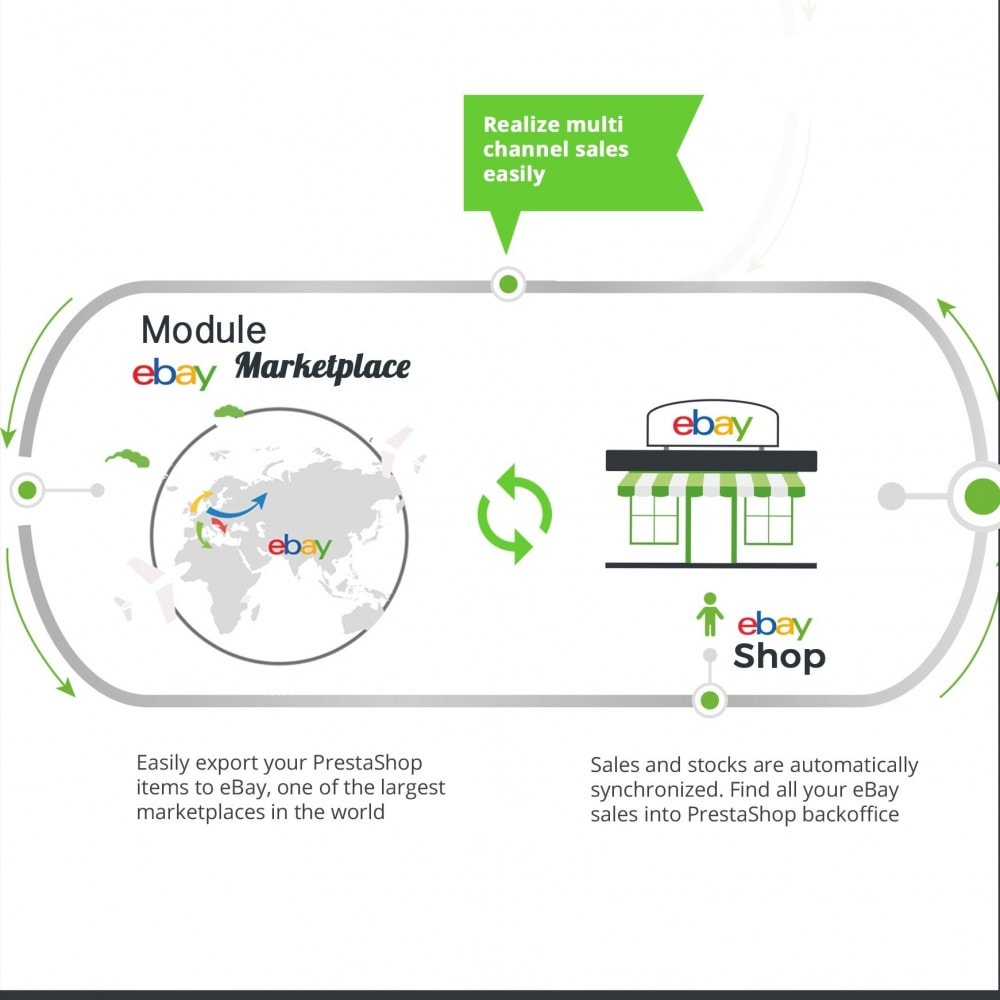 Kurzbeschreibung
This module is the best way to import and synchronize your eBay shop with a new PrestaShop account. Import your eBay catalog into PrestaShop and set up synchronization between PrestaShop and eBay while retaining your existing eBay listings.
Vorteile und Modulbeschreibung
Produktivität Optimiert die Verwaltung Ihres Katalogs
Avoid creating new products sheets : The official marketplace eBay module allows to transform your PrestaShop products into eBay listing. However, it does not allow to create Prestashop products from your eBay store. The Import module eBay is here to make this operation possible.
 
Avoid losing your eBay ranking: Manually Copy your existing eBay listings on eBay PrestaShop would lose your rankings.
 
Interconnection with the official eBay module : The « eBay import » module will allow you to import eBay products into PrestaShop and sale in your eBay store thanks to the eBay official module. It allows to transfer the invisible technical information that ensure the association of PrestaShop with eBay listings.
 
A listing improved product in your eBay store : With the official "eBay marketplace" module synchronize your Prestashop product with your eBay listing. So give the opportunity to your customers to enjoy a product sheet more functional and aesthetic.
Funktionsbeschreibung
When transferring your products from your eBay store in PrestaShop, the following information is imported:
                  -  Product illustration 

                  -  The name of your item 

                  -  Product condition : new, second-hand 

                  -  Text description of your product 

                  -  Sell price excluding VAT 

                  -  The quantity 

                  -  Different versions including quantities and prices 

 
PLEASE NOTE: NO PRICE CONVERSION HAS BEEN MADE. THEREFORE THE CURRENCY FOR YOUR EBAY ACCOUNT MUST BE THE SAME CURRENCY USED IN YOUR PRESTASHOP ENVIRONMENT! 


This module is accompanied by documentation detailing each step of the configuration and installation process. This one is available for download in PDF file in this product sheet. Due to the complexity for configuring the module, 202-Ecommerce offers a paid service to install and configure it in your PrestaShop environment. If you're interested, thank you to contact us directly from this product sheet.
Andere
Other modules 202-ecommerce
We suggest the "Splash Screen" module for displaying your newsletter and a link to your Facebook fan page, so you can promote a product or to make an advertisement in your shop.

About 202-ecommerce
Web agency specialized in ecommerce web sites, we adapt web technologies to online sales. Composed of passionate web professionals in online retail, we are working alongside of e-businessmen enlivened by the same wish to always sell more.
Was Ihre Kunden schätzen werden
 Your customers will appreciate to visit your eBay catalog from your PrestaShop store. They thus benefit of consistency between your PrestaShop and eBay store.
Support und Updates
Sie profitieren automatisch von 3 Monaten Support für dieses Produkt.
Für 90 Tage nach dem Kauf können Sie sich über technischen und funktionalen Support sowie über Zugang zu verfügbaren Aktualisierungen für dieses Produkt freuen.
Garantieren Sie mit der Option Zen 12 Monate lang ein reibungsloses Funktionieren dieses Produkts in Ihrem Online-Shop!
Dank der Option Zen haben Sie für ein Jahr ab Kauf Zugang zu ALLEN Aktualisierungen des Produkts. Der Entwickler des Produkts begleitet Sie über E-Mail-Kommunikation mit Antworten auf alle technischen und funktionsbezogenen Fragen.
Was ist die Option Zen?
Die Option Zen beinhaltet zwei Services:
einen während der Laufzeit der Option unbegrenzten After-Sales-Support;
den Zugang zu allen Updates des Moduls oder Themas während dieses Zeitraums.
Die Option Zen wird beim Kauf dieses Produkts zum Vorteilspreis angeboten. Darüber hinaus kann sie auch nach dem Kauf dessen über Ihr Kundenkonto erworben werden.rnSie ist ab dem Kaufdatum Ihres Produkts bis zu ein Jahr gültig. Je eher Sie es kaufen, desto länger profitieren Sie davon!
Was beinhaltet die Option Zen?
Die Option Zen umfasst:
Beantwortung von Fragen zur Nutzung des Moduls/Themas;
Lösung technischer Probleme im Zusammenhang mit dem Modul/Thema;
Zugang zu allen Updates des Moduls/Themas.
Folgende Leistungen sind nicht in der Option Zen inbegriffen:
Personalisierung und spezifische Entwicklung;
Durchführung der Installation und von Updates des Moduls/Themas;
Lösung von Problemen bezüglich der Dienstleistungen von Drittanbietern, des Hostings, des Servers oder der PrestaShop-Software.
Option Installation
Caution : If an ERP is connected directly to eBay for your order management you need to connect it to PrestaShop before starting an import.
 
Prerequisite – Installation of Ebay module
Step 1 : In your environment, go to the modules tab to find the « Ebay Marketplace » module and install
Step 2 : In the module, connect using your eBay log in and password

Step 3 : Fill in all the requested parameters on the "Account Settings" and save your
changes
Step 4 : Go to "Advanced Settings" and select the radio button "by cron task" parameters "Sync orders" and "Sync Products".
Step 5: Finally, turn off eBay Module
 
 
Installation of the Import Ebay module
Step 1 : Download the module on addons.prestashop.com
Step 2 : Load the module into your Prestashop environment
Step 3 : In the « modules » tab of your backoffice, look for the « Import Ebay » module in the search bar.
Step 4 : After having clicked on « configure », the module will confirm if the installation has been successful.
 
 
Setup the official « eBay maketplace » module to synchronize 
After importing your eBay products into your Prestashop store with the Import eBay module, you must now synchronise your store. The official eBay module allows you to synchronise content information to your Prestashop product sheets and quantities available after an order, with your eBay store.
To begin synchronisation you must now enter the rest of the settings requested in your eBay module. If needed, a help is available for the official eBay module.
 
Due to the complexity for configuring and use the module, 202-Ecommerce offers a paid service to install and configure it in your PrestaShop environment. If you're interested, thank you to contact us directly from this product sheet.
Werden häufig zusammen gekauft
202 ecommerce Entwickelt von

PrestaShop v1.5.0.0 - v1.6.1.17 Kompatibilität

PrestaShop Entwickelt von

PrestaShop v1.7.1.0 - v1.7.2.4 Kompatibilität

Community developer Entwickelt von

PrestaShop v1.3.0.0 - v1.6.1.17 Kompatibilität
Neue Funktionen von Version 2.1.1(03.10.2016)
[*] Not displaying debug tools
Über den Entwickler, 202 ecommerce
202 ecommerce is composed of experimented and passionate web professional in online sale. With a strong backgound on IT projects management, we also work with our customer on webmarketing topics. Our modules are based on our experience made at working with our customers.
202 ecommerce is a young dynamic ecommerce agency based in Paris.  
11.09.2009

PrestaShop-Verkäufer

France

Land Region
Eine Frage?
Sie brauchen Hilfe?
Der Entwickler antwortet Ihnen auf