Create quotation in front and back office Modul
Entwickelt von
Community developer
(56 Stimmen)
Mehr als 90 % der Benutzer empfehlen dieses Produkt weiter
Die Durchschnittsbewertung umfasst alle Bewertungen der letzten sechs Monate.
Erfahrungsniveau
Die Benutzer denken, dass dieses Produkt einen Kenntnisstand voraus setzt:
Für Benutzer mit Grundkenntnissen
8
Für fortgeschrittene Benutzer
2
+1,000
Downloads!
PrestaShop
1.5.0.0 - 1.7.2.4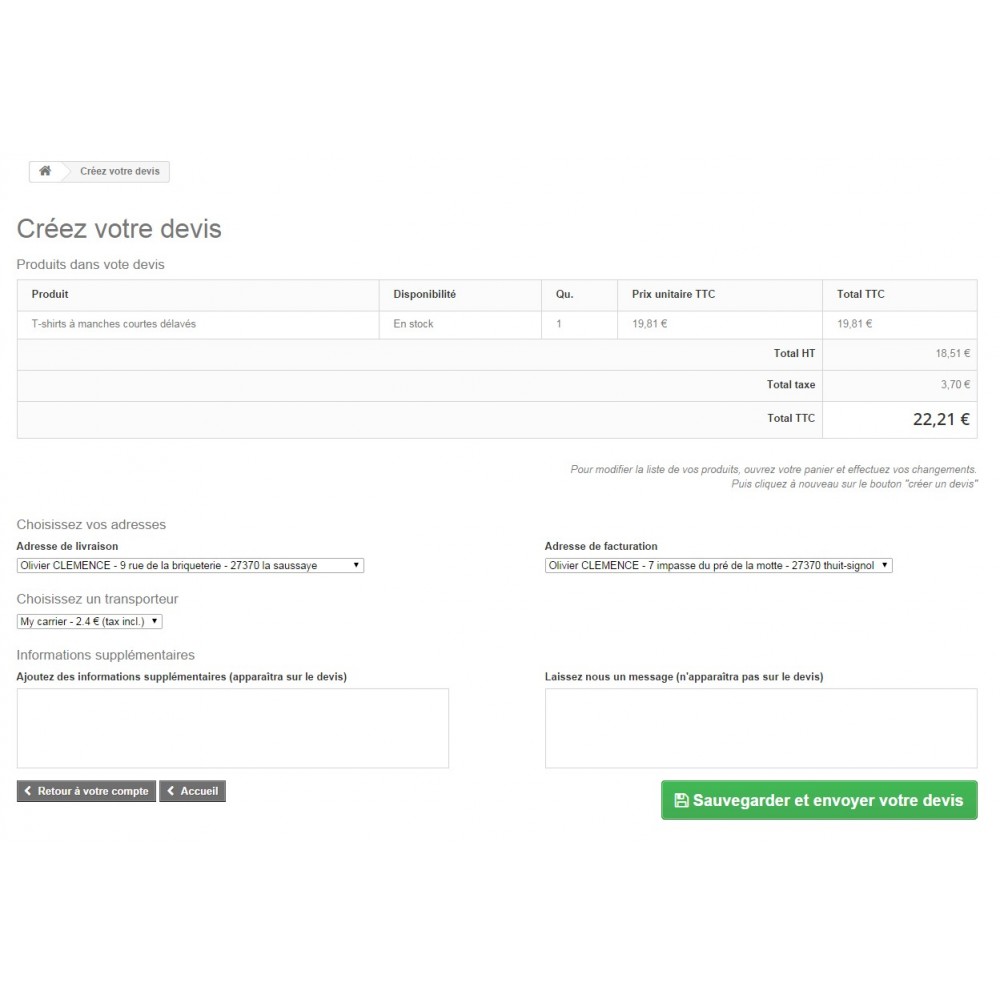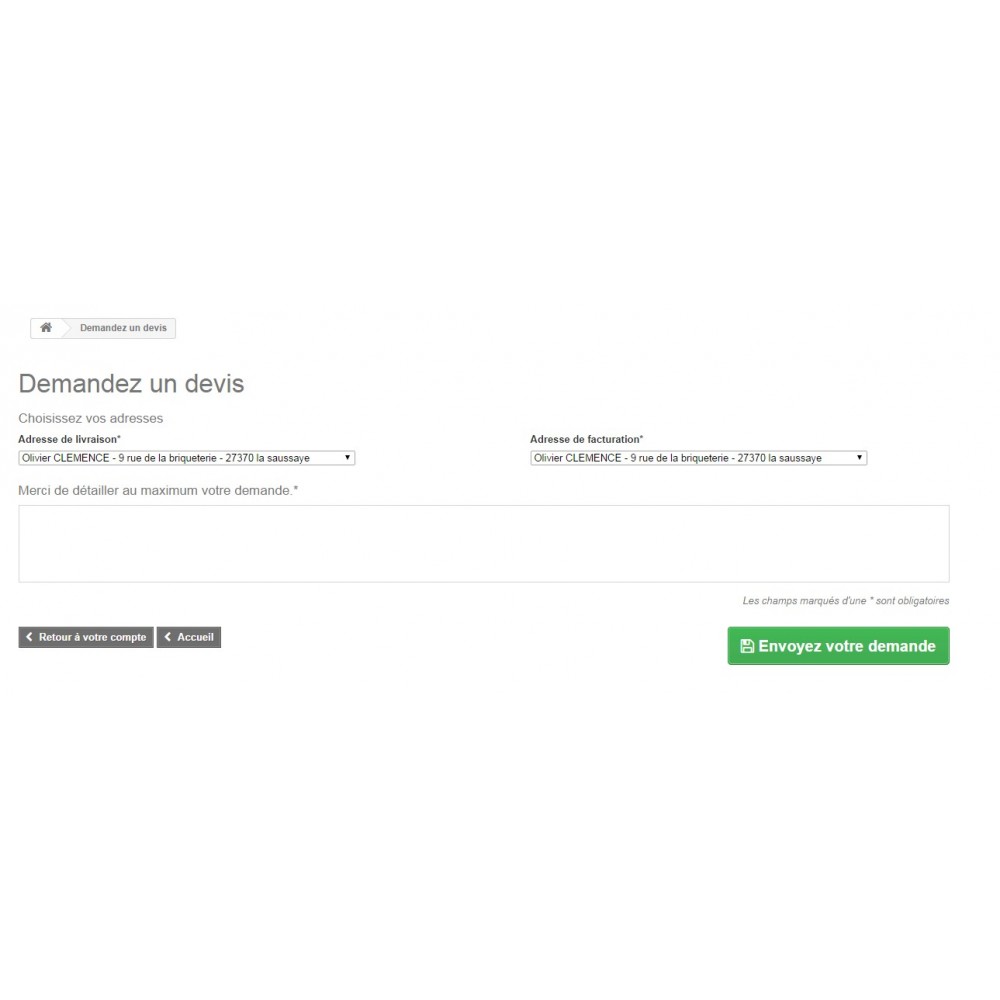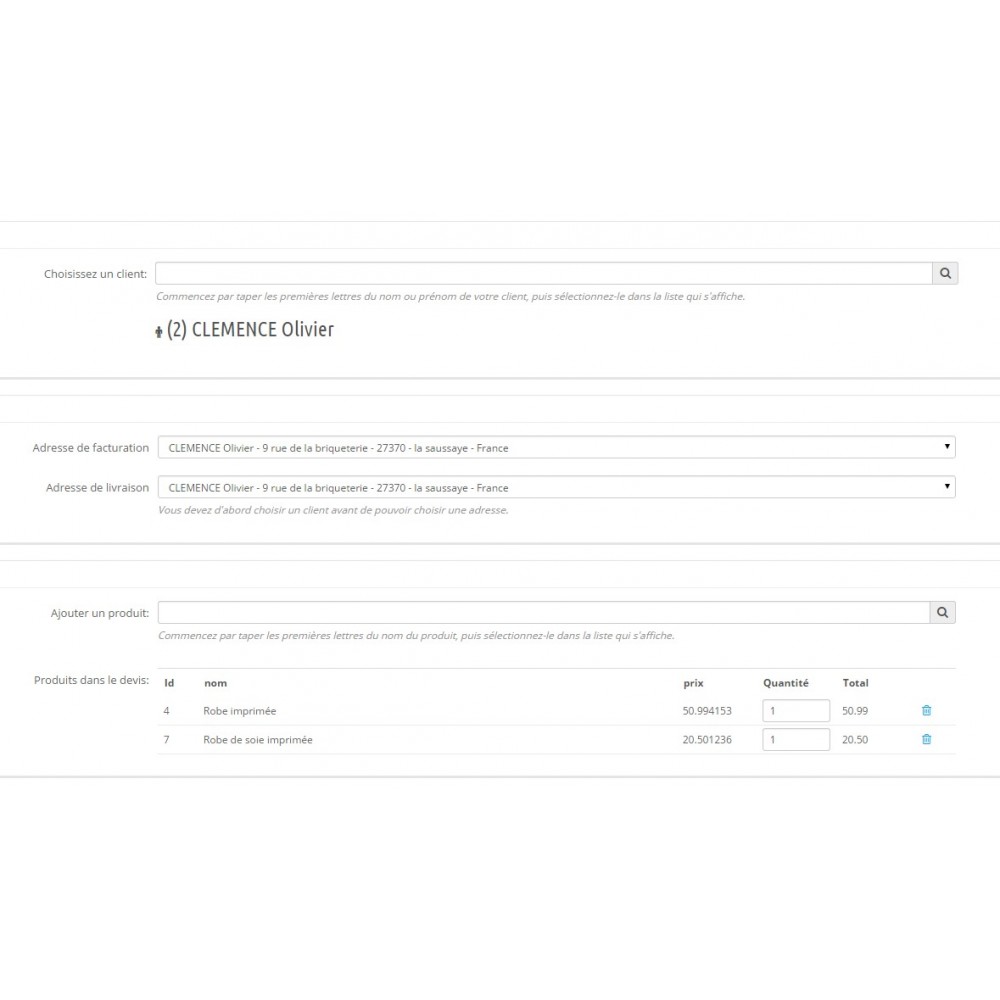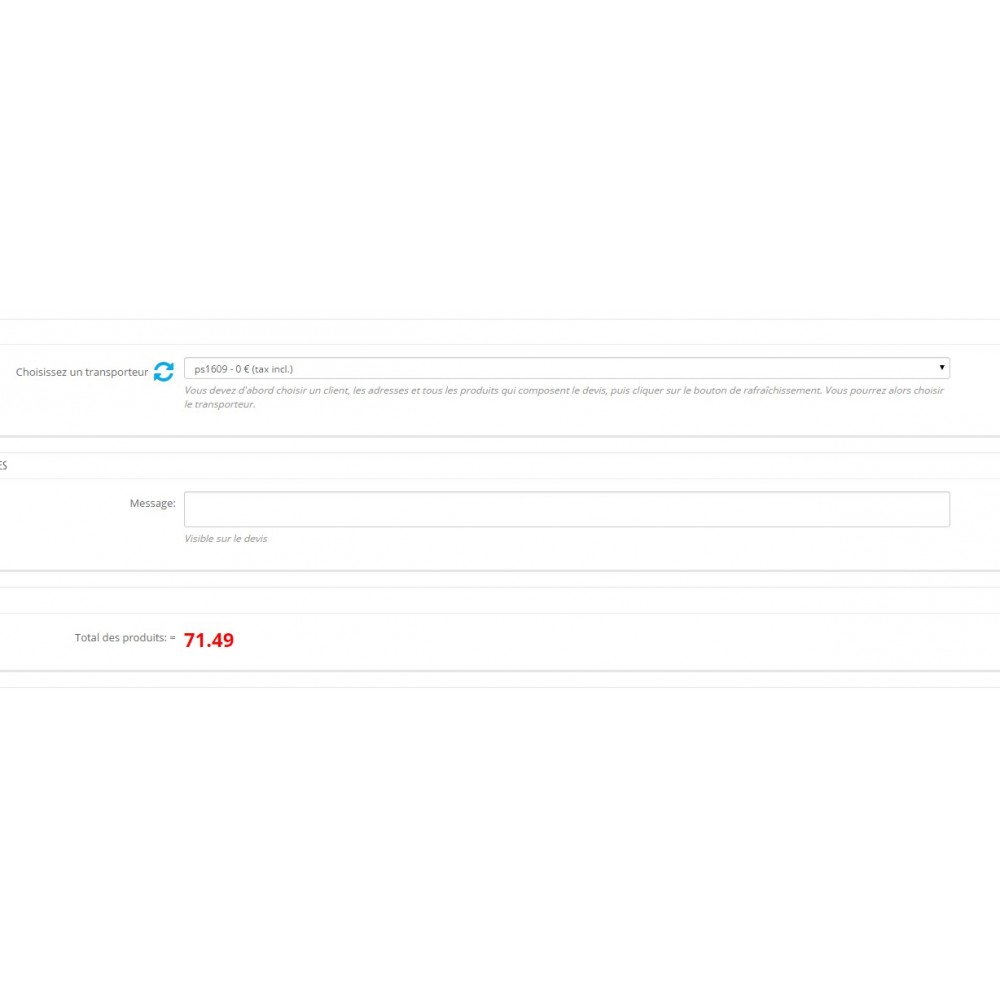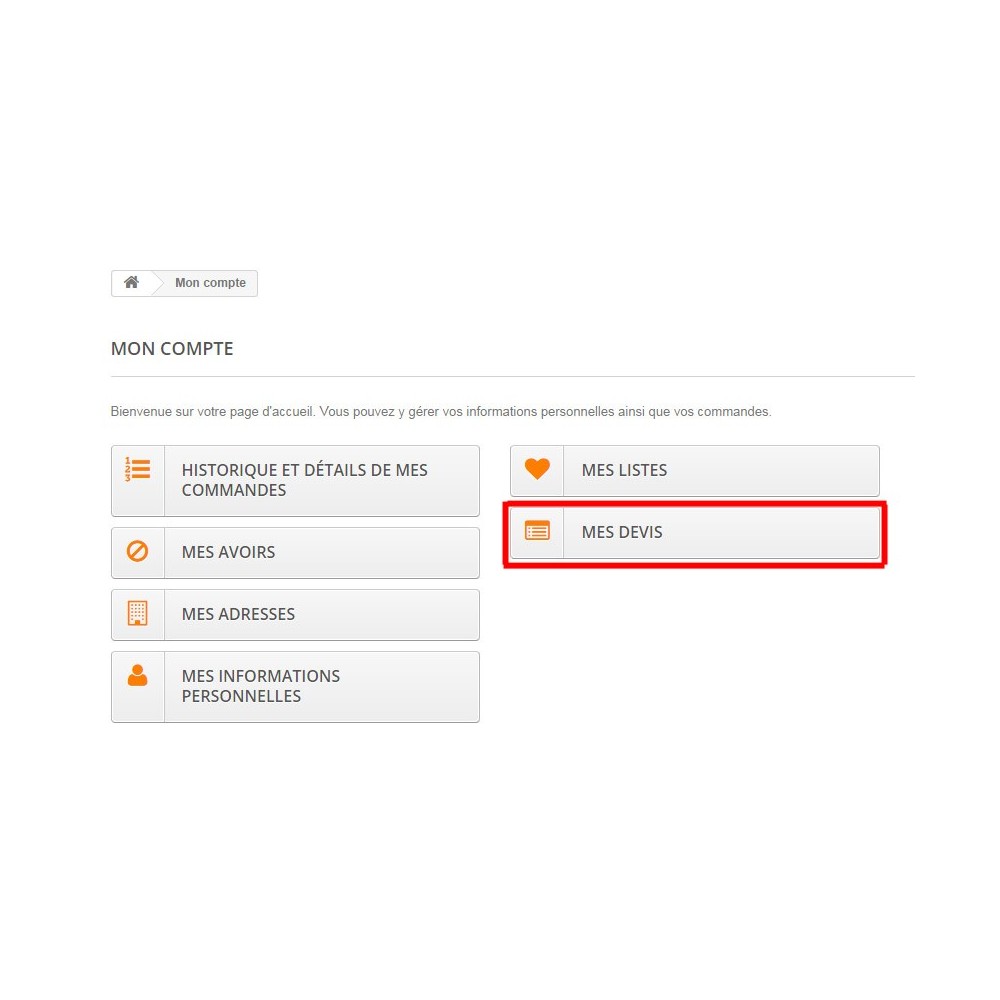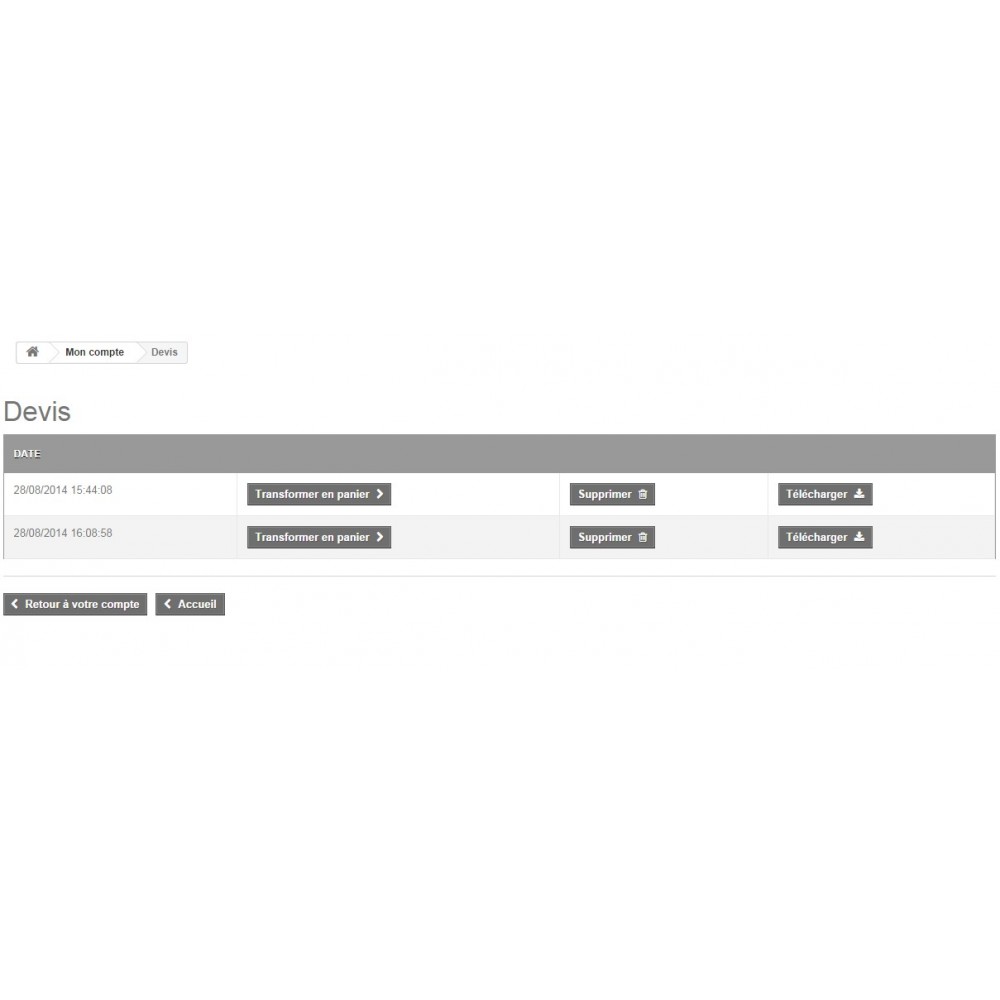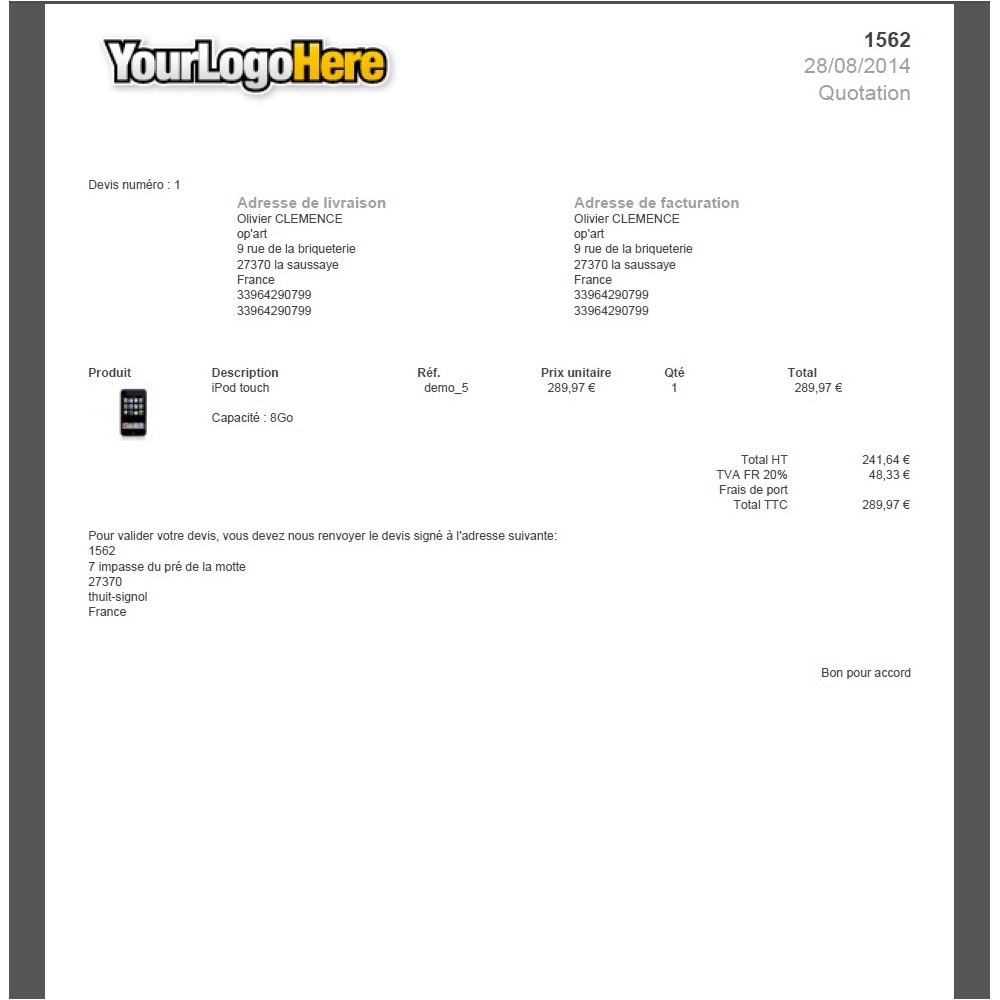 Kurzbeschreibung
 Increase your revenue, by giving your clients the option of creating a quote, in a few clicks
Vorteile und Modulbeschreibung
Conversion-Rate Bietet Ihren Kunden eine auf sie zugeschnittene Zahlungsmethode
 - Find the list of created quotes in your backoffice.
- Resend the quote to the client or administrator by email, in one click.
- Donwload the quotes in one click.
- Modify the quotes you have created, or those that clients have created themselves.
- Create the quotes in the backoffice and assign them to your clients.
- Add a message to the quote.
- Automatic calculation of the totals (total product, vat, etc..).
- Choose the carrier according to the price or weight range, which you will have already defined.
- Assign a client to a quote, by simply entering the first letters of their surname or name.
- Add products, by simply entering the first letters of the product name.
- The products added to the quote, will manage the versions.
- Add pre-defined texts to your quotes (confirmation text, end user agreement, open text, address, etc..).
- Choose whether the quote should automatically be sent by email, to the client.
- Define the address of the administrator who will be receiving the quote requests.
- Choose the number of products displayed on each page on the quote's PDF.
- Add discount to your quotation.
- Works with all 1.5 and 1.6 Prestashop version and Prestashop Cloud
Funktionsbeschreibung
 - Your clients can transform their cart into a quote, in a a few clicks.
- It is also possible to send quote requests freely, without having to use the cart.
- Create quotes via the backoffice.
- Modify quotes, including those created by the clients.
- The quotes are listed in the backoffice and in the client account.
- The client can transform the quote into a cart, in one click.
- Either yourself or your client, can add a message to the quote.
- Your clients can add a message for the administrator ( a message that will not be visible on the quote).
- The users that are not logged in, wlll also be able to request quotes.
- Automatic or manual sending of the quotes, by email.
- The administrator can decide to be alerted via the email address of their choice, when a quote is created.
- There are numerous text zones available for pre-registering your texts of approval, etc…
- The quote is generated via a classic template file, that you will be able to customise, if you so wish.
- Photos of the products are displayed on the quote.
- Add discount using cart rules.
- Add specific price for each product directly on your quote.
- Choose an expiration time for all quotes.
- A quotation that the validity date is exceeded can not be turned into cart by the customer.
Werden häufig zusammen gekauft
Community developer Entwickelt von

PrestaShop v1.5.0.0 - v1.7.2.4 Kompatibilität

InnovaDeluxe Entwickelt von

PrestaShop v1.5.0.0 - v1.7.2.4 Kompatibilität

Community developer Entwickelt von

PrestaShop v1.2.5.0 - v1.7.2.4 Kompatibilität
Was Ihre Kunden schätzen werden
 - Clients wishing to purchase in large quantities, will be able to ask for a discount, in a few clicks.
- The quotes are registered under the client account, allowing you to find them easily.
- You can download a quote that has been previously created at any moment.
- Transformation of a quote, into a basket, in one click.
- You can prepare a quote, either by transforming a basket or by using the classical method, via an application form.
- The quotes are generated in a PDF version, which is very simple to print or save.
- The "create a quote" button, can be added in several places on the website, in order for it to be easily found.
Support und Updates
Sie profitieren automatisch von 3 Monaten Support für dieses Produkt.
Für 90 Tage nach dem Kauf können Sie sich über technischen und funktionalen Support sowie über Zugang zu verfügbaren Aktualisierungen für dieses Produkt freuen.
Garantieren Sie mit der Option Zen 12 Monate lang ein reibungsloses Funktionieren dieses Produkts in Ihrem Online-Shop!
Dank der Option Zen haben Sie für ein Jahr ab Kauf Zugang zu ALLEN Aktualisierungen des Produkts. Der Entwickler des Produkts begleitet Sie über E-Mail-Kommunikation mit Antworten auf alle technischen und funktionsbezogenen Fragen.
Was ist die Option Zen?
Die Option Zen beinhaltet zwei Services:
einen während der Laufzeit der Option unbegrenzten After-Sales-Support;
den Zugang zu allen Updates des Moduls oder Themas während dieses Zeitraums.
Die Option Zen wird beim Kauf dieses Produkts zum Vorteilspreis angeboten. Darüber hinaus kann sie auch nach dem Kauf dessen über Ihr Kundenkonto erworben werden.rnSie ist ab dem Kaufdatum Ihres Produkts bis zu ein Jahr gültig. Je eher Sie es kaufen, desto länger profitieren Sie davon!
Was beinhaltet die Option Zen?
Die Option Zen umfasst:
Beantwortung von Fragen zur Nutzung des Moduls/Themas;
Lösung technischer Probleme im Zusammenhang mit dem Modul/Thema;
Zugang zu allen Updates des Moduls/Themas.
Folgende Leistungen sind nicht in der Option Zen inbegriffen:
Personalisierung und spezifische Entwicklung;
Durchführung der Installation und von Updates des Moduls/Themas;
Lösung von Problemen bezüglich der Dienstleistungen von Drittanbietern, des Hostings, des Servers oder der PrestaShop-Software.
Neue Funktionen von Version 3.4.5(19.12.2017)
Apply fix for PS 1.7 "Cannot use object Cart as array"
Über den Entwickler
29.06.2012

PrestaShop-Verkäufer

France

Land Region
Eine Frage?
Sie brauchen Hilfe?
Der Entwickler antwortet Ihnen auf